Revolutionary Upsizing Software for Digital Photographers Released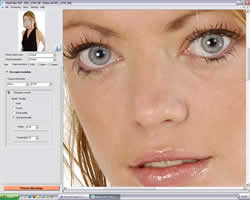 FixerLabs Press Release 01/11/04
SizeFixer SLR Released - Revolutionary Upsizing Software for Digital Photographers
Watford, UK. FixerLabs Ltd. November 1 2004.
FixerLabs announced the launch of their stand-alone software application for increasing the resolution and definition of a digital image at Photokina in October, SizeFixer SLR is now shipping.
SizeFixer SLR has been designed as a tool for the professional photographer. SizeFixer addresses the major area of concern when upsizing: images become soft as size increases. SizeFixer uses a radically different approach to the existing software solutions - it is
the first commercial product to offer genuine super-resolution. For the technically minded: super-resolution correctly extends the Fourier domain content of an image beyond the original Nyquist limit.
SizeFixer SLR features:
- Enlarges up to 400% without loss of definition
- Enlarges to A1 size
- Cropping made easy
- Intuitive batch processing
- 8-bit and 16-bit photos
- RGB, JPEG, TIFF
"SizeFixer SLR is the result of many years of R&D work in the field of digital image processing" comments FixerLabs Managing Director Tim Atherton, "the entire team at FixerLabs can be proud that, after an intensive period of development, SizeFixer is already being hailed as
the best resizing tool for professional photographers".
Pricing and Availability:
SizeFixer SLR is available from FixerLabs (www.fixerlabs.com) or their exclusive UK/EU distributor Colour Confidence (www.colourconfidence.com) priced at $249. SizeFixer SLR for Windows XP is now shipping on CD (the Mac version will ship in December).