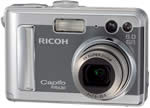 PMA 2006: The Ricoh Caplio RR630 is announced today. 6.1 megapixels, 3x zoom lens, 2 inch LCD screen. The Ricoh RR630 will be available from March for £129.99.
Ricoh UK Press Release
London – UK February 23rd 2006. – Ricoh is delighted to announce the release of the Caplio RR630 - a compact 6.1-megapixel digital camera that brings the joy of digital photography within reach of even first time users. The Ricoh RR630 is the latest addition to Ricoh's popular, award-winning range of digital cameras, whose outstanding performance, value for money and stylish designs have won favour with photographers around the world. The Ricoh RR630 consistently produces vivid, crystal-clear images that place it a touch above other cameras in its class. Equipped with a 3x optical zoom and 4x digital zoom, for a combined 12x zoom, the Caplio RR630 is ready to take on any photographic challenge.
Weighing in at just 150g*, the RR630's sleek, compact body fits easily into the palm of your hand or your pocket. Taking great photos has never been easier - with the RR630 it really is as simple as "point and shoot". With this smooth operator, even absolute beginners will have no trouble wowing their friends and family with stunning digital images. For those who like to take control of their photos, the RR630's Mode dial has plenty of creative options, including a movie mode and four scene modes: Portrait, Landscape, Sports and Night. As the resolution 130,000 brightness of the large 2.0-inch LCD monitor is easily adjusted, you can view your images clearly in any light. Transferring photos to a PC is a breeze with the RR630's USB connector. And with 16 MB of internal memory, the RR630 is ready to shoot straight out of the box. It also features an SD Card slot, enabling the use of this widely used storage medium.
If you are looking for a stylish, compact digital camera, look no further than the Caplio RR630! The world of digital photography is just a shutter-press away.
* Without battery and SD card
Main Features of the Caplio RR630
1. 6.1megapixel CCD.
The RR630's 6.1-megapixel CCD delivers high image quality every time. Prints, even as large as A4 size, turn out bright, sharp and full of rich detail.
2. 3x optical zoom plus 4x digital zoom.
The RR630's 3x optical zoom has a long enough reach for most scenes. But when you need to get even closer, using the 4x digital zoom produces a total of up to 12x zoom.
3. Movie mode and four scene modes.
The RR630 records movies, plus it comes with four scene modes that optimise the camera's settings for a particular type of subject.
4. Get in as close as 6cm.
Enter the exciting world of macro photography with close-ups of flowers and other objects.
5. 16MB internal memory and SD Card slot.
The RR630 boasts 16MB of internal memory. For extra storage capacity, just insert an SD Card (sold separately).
6. Big bright 2.0" LCD monitor.
The large 2.0"LCD with 130,000 pixel resolution allows for accurate clear play back of images immediately after shooting.
7. Accepts regular AA batteries.
AA batteries can be bought almost anywhere, making the RR630 the perfect partner whenever you're on the move.
8. Fast, simple PC connectivity.
Connect the RR630 to a computer with the USB cable and you can enhance your photos and even create panoramic images with the included software.
Price and Availability
The Caplio RR630 will be available from March RRP £129.99 inc
About Ricoh
A pioneer in digital office equipment, Ricoh provides state-of-the-art multifunctional printing devices tailored to corporate office customer needs, and offers a broad range of digital, networked products, including copiers, printers, fax machines, DVD/CD media, and digital cameras.
With 347 consolidated subsidiaries worldwide, Ricoh employs 75,100 people with consolidated sales of 1.81 trillion YEN.
Caplio RR 630 Major Specifications
CCD Effective 6.1 million square pixels (6.2 million pixels), 1/1.8-inch primary colour CCD
Lens Focal length 7.5 –22.5mm (equivalent to 36-108mm for 35mm cameras)
Brightness (F value) F 2.8 (W)-4.8 (T)
Zoom Optical 3x zoom (up to 12x zoom when combined with digital zoom)
Object Distance approx. 0.5m-?,
Macro: approx. 0.06m-? (Wide), approx. 0.3m-? (Telephoto)
Shutter
?1-1/2000 sec.
Recording Format
Compressed: JPEG (Exif ver. 2.2) DCF compliant, DPOF support

AVI (Motion JPEG Format compliant)
Recording Media SD Memory Card (3.3V 32 - 512MB),
Internal Memory (16B)
Resolution (pixels)
? 2848 x 2136, 2272 x 1704, 1600 x 1200, 640 x 480

320 x 240?24fps?
Recording Mode Still (Program, Auto), Scene Mode (Portrait, Landscape, Sports, Night Scene), Movie
Picture Mode
Fine/Normal/Economy
Storage Capacity
(No. of Pictures)
(Internal 16MB Memory) ?Still?
2848x2136(F: 3,:N:7,E:14),2272x1704(F:5,N:11,E:22),
1600x1200(F: 10,N: 21,E: 42), 640x480(F: 63,N: 127,E: 254) ?
Storage Capacity (Time)
(Internal 16MB Memory) ?Movie? 55 seconds (320x240)
ISO Sensitivity Auto / 64,100,200
Flash
? Auto / Red-Eye Reduction / Forced Flash / Flash Off
Flash Range: approx. 0.6m-2.4m (Wide), approx. 0.6m-2.1m (Telephoto)
Focus Auto Focus, Macro, Infinity
Exposure Compensation Manual Compensation (+2.0?-2.0EV in 0.3EV steps)
White Balance Auto/ Fixed (Daylight, Cloudy, Tungsten, Fluorescent)
LCD Monitor 2.0inch LTPS LCD (approx. 130,000 pixels)
Viewfinder Real-image optical zoom finder
Self Timer Operating Time: approx. 10 sec./ 2 sec./10+2 sec.
PC Interface USB1.1 (supported by Windows98/98SE/2000/Me/XP, or Mac OS 9.0 or higher with built-in USB port)
AV Interface AV Out
Video Signal Method NTSC/PAL switchable
Battery AA alkaline or Rechargeable battery x2
Shooting Capacity* Based on CIPA Standard: using AA alkaline, approx. 65 pictures
Dimensions (W x D x H) 91.0mm(W) x 27.0mm(D) x 61.0mm(H)
Weight Approx. 150g (without batteries, Hand strap, SD Memory card)
Operating Temperature 0?40 ??
*:Battery performance was measured using CIPA-standard parameters. Actual performance may vary according to usage conditions and the brand of the battery.
* Windows is a registered trademark or trademark of Microsoft Corporation in the U.S.A. and other countries.
* Mac OS is a registered trademark of Apple Computer, Inc. in the U.S.A. and other countries.