Ricoh GR Digital Creative Set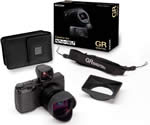 PMA Show: The Ricoh GR Digital Creative Set is introduced today. This consists of the Ricoh GR Digital camera, wide conversion lens, external viewfinder, hood and adapter, camera case and neck strap. The GR Digital Creative Set Package will be available from March for £699.
Ricoh UK Press Release
London – UK February 23rd 2006, RICOH EUROPE B.V. have announced the launch of the "GR DIGITAL Creative Set" including the award winning GR DIGITAL combined with an exciting package of accessories (consisting of wide conversion lens GW-1, external viewfinder GV-1, hood and adapter GH-1, and camera case and neck strap) designed to maximise the camera's already superb performance. The new GR Digital inherits the superb image quality that made the award winning GR Series (first launched in 1996) of 35mm compact film cameras so popular, as well as the depictive performance to satisfy professional photographers, distilled into a compact 25-mm thin body. With a high-quality feel and superb expandability, this is the perfect tool for both professional photographers and advanced amateurs.
When planning the GR Digital, Ricoh's engineers began by identifying the elements needed to provide the high picture quality demanded by discerning photographers. After extensive tests and research, Ricoh placed special emphasis on resolution, noise level, colour aberration correction, colour reproduction, tone, and distortion characteristics. In order to achieve extremely high levels in each of these areas, Ricoh gave the GR Digital a CCD with 8,130,000 effective pixels, and also developed two key components: (1) a F2.4 fixed focal length GR lens with f = 5.9 mm (28 mm converted to 35 mm format camera) having high resolution and depictive power; and (2) a new GR Engine image-processing system featuring natural composition and rich, fine gradations while further lowering noise in all images.
Now, the GR Digital camera has been coupled with an exciting package of accessories consisting of the wide conversion lens GW-1, external viewfinder GV-1, lens hood and adapter GH-1, neck strap and camera case.
Developed exclusively for the GR DIGITAL, the wide conversion lens enables ultra wide-angle 21mm photography while preserving its superior optical characteristics.
The hood associated with the wide conversion lens prevents the intrusion of unwanted light during photography with the wide-angle lens. And the externally attached optical viewfinder allows users to capture images just at the right instant.
In response to market demand, Ricoh now offers an attractive combination: the GR DIGITAL, with its incomparable high performance and functionality, plus accessories designed to further enhance the camera's appeal. It's a combination that broadens the potential of the world of images.
The GR DIGITAL Creative Set – maximising user creativity.
The GR DIGITAL Creative Set Package Contents
GR DIGITAL
Rechargeable Battery (DB-60)
Battery Charger (BJ-6)
Wide Conversion Lens (GW-1)
External View Finder (GV-1)
Hood & Hood Adapter (GH-1)
Camera Case (GC-1)
Neck Strap (GS-1)
Price and Availability
The GR Digital Creative Set Package will be available from March RRP £699 inc VAT