Ricoh GR Digital Special Edition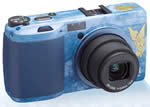 Ricoh have announced a 1st Anniversary Commemorative Model of the GR Digital, an 8 megapixel compact digicam based on the GR Series of 35mm compact film cameras. Limited to 1,000 units only, the new GR Digital also celebrates the 10th anniversary of the GR series film camera. Japanese illustrator Katsuya Terada is responsible for the very distinctive look of the new model, which is sure to attract attention whenever you use it. There's even a new strap and lens cloth to complete the angelic look…
Ricoh UK Press Release
Ricoh is commemorating the 1st anniversary of the award winning GR Digital camera and the 10th anniversary of its successful GR Series of 35mm compact film cameras with a special edition of the GR Digital camera. This GR Digital 1st Anniversary Commemorative model was designed by renowned Japanese illustrator Katsuya Terada and features a blue sky and clouds as the base colours of the camera with figures of angels besides the lens and on the top of the camera body. It comes with its own matching strap and lens cloth to complete the package. This model is strictly limited – only 1000 units will be made.
Pricing and Availabilty
The camera will be on sale in December at £499.99 inc Vat. Limited number available.