Ricoh GR Digital Wins DIWA Gold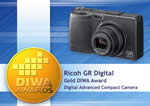 DIWA Press Release
The first DIWA Gold Award to Ricoh for their GR Digital camera
A decade ago, Ricoh launched their classic GR1 camera for 35 mm film, a durable and robust camera that offered a professional performance and a high-quality 28 mm lens. The Ricoh GR Digital is a modern, digital version of the GR1 with many high-tech modifications, yet based on the same unique philosophy. This puts the GR Digital in a class of its own, a perfect photographic companion for the photographic connoisseur.
Amsterdam, December 20, 2006: DIWA (Digital Imaging Websites Association), a world-wide organisation of collaborating websites, today has the pleasure of announcing a DIWA Gold Award to the remarkable Ricoh GR Digital semi-pro compact camera.
Most people would never consider buying a camera that doesn't feature an optical zoom and many will certainly be surprised to see the DIWA experts honour such a camera with a Gold Award. Zoom lenses are obviously more versatile, but in most cases their optical performance is inferior. Besides, the GR Digital isn't equipped with just any lens, but a powerful f/2.4 wide angle lens (28 mm equiv.) of excellent quality with 1.5 cm macro capability. A first class wide converter (21 mm equiv.) can be added to strengthen its wide angle potential even further.
Just like its 10 year older idol, the GR Digital body is housed in magnesium alloy to withstand the harsh environments often related to professional photography. With its 8 Megapixel image resolution, ISO 64-1600 sensitivities, RAW and JPEG formats, sRGB and Adobe RGB, dual command dials, automatic or manual exposure and white balance, 15 AF points, individual parameter settings for image quality, as well as a wide range of shutter speeds, aperture settings and metering modes, the GR Digital is an ideal compact to supplement bulky camera equipment.
Unlike professional D-SLR cameras, the Ricoh GR Digital can even shoot video sequences and add 8 sec. voice narrations to still images, and it features a built-in pop-up flash. Its 2.5-inch high resolution LCD screen provides user-friendly menu navigation, image review and playback.
These amazing qualities, plus a favourable price tag certainly pleased the international DIWA group of experts. Although specifications alone aren't proof of excellence, the summarized test results from the strict DIWA testing procedure were more than enough to convince the test panel that the Ricoh GR Digital deserves a DIWA Gold Award for its total package of excellent value for money.
About DIWA
A fast growing independent, authoritative, industry organization
The Digital Imaging Websites Association (DIWA) is a fast growing group of independent Web-based specialist publications dedicated to digital imaging. DIWA harnesses the collective talent and expertise of its members, resulting in industry awards that command unparalleled confidence and value, both for consumers and the industry, alike. DIWA awards come in the form of bronze, silver and gold medals for various product categories.
Unique bullet-proof test scoring procedure
DIWA product test awards are exclusively decided through the analysis of multiple test scores from different DIWA testers, testing different samples of the same product. A very detailed and comprehensive standardized scoring procedure is employed, tailored carefully for each category of product. Multiple testing eliminates the chance of an isolated, unrepresentative product sample or test error, or even hidden bias, from affecting the trustworthiness of the overall result.
Awards throughout the year
DIWA is also unique in its policy in issuing awards for deserving products throughout the year, culminating in an annual best of the year Platinum medal awards in all product categories.
DIWA Awards members:
- Canada: www.photoxels.com
- Czech Republic:  www.fotoaparat.cz
- Denmark:  www.digitalmagasinet.dk
- Germany:  www.digitalkamera.de
- Netherlands:  www.letsgodigital.org
- Norway:  www.digit.no
- Poland:  www.fotopolis.pl
- Slovenia:  www.e-fotografija.com
- Spain:  www.nuevafotografia.com
- Turkey:  www.diginorm.com.tr
- United Kingdom:  www.photographyblog.com
The DIWA multi-lingual Web site
At the heart of the DIWA organisation is its multi-lingual Web site, www.diwa-awards.com, where you can find links to the latest reviews published by DIWA member publications. The site also archives DIWA awards and is designed to aid consumers in their choice of imaging products.
For further information about DIWA please visit our Web site - http://www.diwa-awards.com - or email us at [email protected]