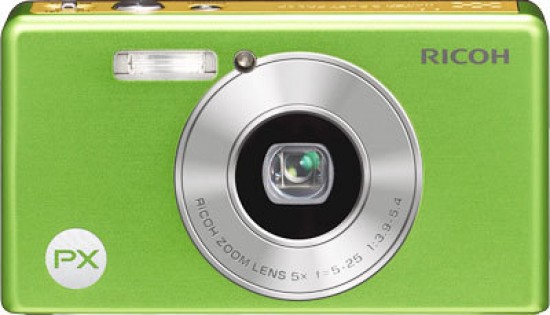 Ricoh has announced a new, 16-megapixel dust-, shock- and waterproof digital compact camera called the Ricoh PX. Sporting a 28-140mm equivalent f/3.9-5.4 zoom lens and a sensor-shift anti-shake mechanism, the Ricoh PX is waterproof down to a depth of 3 metres for a duration of up to 60 minutes and can also withstand being dropped from a height of up to 1.5 metres. For low-light shooting, the camera offers a handheld night scene mode that uses pixel binning for improved light sensitivity. In addition to taking photos, the Ricoh PX can also shoot 720p HD video, recording both movies and stills on SD(HC) memory cards. Available in lime green, silver and black, the Ricoh PX has a recommended retail price of £179.99 in the UK, $249.00 in the USA and €199.00 in the Euro zone. A range of add-on protective panels will be available in a variety of colours, priced at €20 apiece. These panels/covers add further protection to the tough little camera, the manufacturer says.
Via Photoscala
Ricoh Press Release
Ricoh Introduces the PX Series - Water- and Dust-Resistant Digital Cameras for Day-to-Day Photography, Outdoor Use, and Everything in Between
June 9, 2011—TOKYO, Japan—Ricoh Co., Ltd. (helmed by president and CEO Shiro Kondo) today announced the release of the new PX compact digital camera. The new design offers 5.0×, wide-angle (28 mm) and telephoto (140 mm) optical zoom in a water- and shock-resistant package that can safely be used for hassle-free photography in a wide variety of locations and situations.
Designed for hassle-free operation, the new RICOH PX lets users take photographs anytime, anywhere with fast startup and settings that adapt to subjects for optimal results. Its high-resolution, 16-million–pixel CCD sensor and Smooth Imaging Engine IV image processing engine combine for high-resolution, high-quality photographs.
The new, fully flat design give the new RICOH PX, ease-of-use and portability, results in a camera that is easy to carry, while the optional protective jacket appeals to users with a choice of colour schemes that can be matched to the camera body.
While it exhibits the traditional dedication to image quality that has been the basis of all RICOH digital camera designs, the newly released RICOH PX is also a compact digital camera that promises fun, hassle-free photography. It is also dedicated to image quality that has been the foundation of all RICOH digital camera designs to date.

The RICOH PX comes with a slip-proof protective jacket(available in five colours to match the camera body ) to protect it from shocks and scratches. The "Two-way" straps that function as both hand- or neck-straps are also available in five colours.

The Ricoh PX is available early July at SRP £179.99 inc
Your Comments