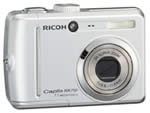 The Ricoh RR750 is an entry-level 7.16 megapixel digital camera with 2.5 inch LCD screen and 3x optical zoom lens. The new RR750 replaces the Caplio RR730 model, offering a higher resolution LCD screen and greater lens resolution. So far the Ricoh RR750 has only been announced in Japan. The Ricoh RR750 will be available at the end of July 2007 in the UK at £99.99 including VAT.
Ricoh Press Release
Ricoh announces the Caplio RR750

Ricoh introduces the Caplio RR750—A new digital camera combining superior Ricoh usability with 7.16 megapixel resolution. Great pictures from a compact, easy-to-use camera!
Ricoh is proud to announce the release of the new Caplio RR750. This trim new entry-level digital camera adds several exciting and useful features to its extremely popular predecessor, the Caplio RR730. The crystal-clear 2.5" color TFT-LCD monitor now has even higher resolution for clearer viewing during picture taking and playback. And greater lens power resolution gives even higher quality images.
The Caplio RR750 is the latest addition to Ricoh's popular, award-winning range of digital cameras, which have won favor with photographers everywhere because of their outstanding performance, value for money and stylish designs. The RR750 consistently produces stunning, crystal-clear images unmatched by other cameras in its class. The 3x optical zoom and 4x digital zoom, for a combined 12x zoom, give the RR750 the versatility to effortlessly handle any photographic situation.
Weighing only 128g*, the sleek, compact body of the RR750 sits comfortably in the palm of your hand and fits easily into pocket or purse. What's more, the point-and-shoot freedom of earlier models is further enhanced in the RR750, so that even absolute beginners will have no trouble impressing friends and family with stunning digital images. The six scene modes of the RR750 give you exciting options for adding a touch of creativity to your digital imagery. With Mode dial settings of Auto, Program, Portrait, Landscape, Sports and Night Scene, along with the popular Movie mode, you get extensive choice and usability. In addition, low-light photography has become even easier with an increase in maximum ISO sensitivity, and, if you do need flash, the higher flash guide number of the RR750 gives you even greater flash range. With longer battery life than previous models, the RR750 can keep on shooting even longer.
When you want to check your shots, review them clearly, anytime, anywhere thanks to the enhanced resolution of the super-large size 2.5-inch color TFT-LCD monitor. Or simply transfer them to your computer with the RR750's easy-to-use USB connector. The RR750's 32 MB of internal memory gives it the ability to take many beautiful pictures right out of the box. If you need more storage space, just add an SD Card, a widely used and easily available storage medium.
If you are looking for an easy-to-use digital camera with a light, elegant body and crystal-clear color TFT-LCD monitor, then look no further. The RR750 is the camera for you.
*Without battery and SD card
*To Top
Major Features of the Caplio RR750
1. 7.16-megapixel CCD
  The RR750's 7.16-megapixel CCD delivers superior image quality with every shot. Even large A4 size prints turn out bright, sharp and full of rich detail.
2. 3x optical zoom plus 4x digital zoom
  The RR750's 3x optical zoom brings you close enough for most scenes. But when you need to get even closer, the 4x digital zoom gives you a total of up to 12x zoom.
3. Movie mode and six versatile scene modes to choose from
  The RR750 records movies, and features six useful scene modes to help you take the best pictures in all conditions.
4. Get in as close as 6cm
  In the exciting world of macro photography, you can find beauty that you never knew existed.
5. 32MB internal memory and SD Card slot
  The RR750 boasts a full 32MB of internal memory. And if you need it, extra storage capacity is available using SD Cards (sold separately).
6. Big, bright & beautiful 2.5" color TFT-LCD monitor
  The super-large 2.5" color TFT-LCD monitor has enhanced 153,600-pixel resolution to give strikingly clear image playback right after shooting.
7. Uses standard-size AA batteries
  AA batteries are available almost anywhere, making the RR750 a perfect partner for photography on the go.
8. Fast, simple PC connectivity
  Transferring photos to a computer couldn't be simpler—just connect the RR750 with the USB cable provided. Bundled software even enables you to enhance your photos and create panoramic images.
  • User's Manual
  • CD-ROM
  • Camera Strap
  • Camera Pouch
  • Video Cable
  • USB Cable
  • 2 AA Batteries
Your Comments