Robert Capa's Vintage Prints on Show at Paris Photo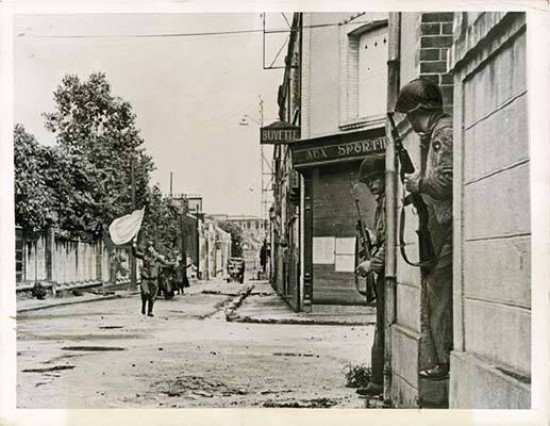 At Paris Photo this year, as a centennial celebration of Robert Capa's life and work, Daniel Blau will present a collection of more than 65 rare vintage pictures documenting World War II in Europe from 1943-45. Born on 22 October 1913 as Friedmann Endre Ernő in Budapest, Hungary, Robert Capa was one of the most famous photojournalists and war photographers of all time. Having covered the Spanish Civil War, the Second Sino-Japanese War and the Second World War, he co-founded Magnum Photos in 1947, with Henri Cartier-Bresson, George Rodger, David Seymour and William Vandivert. As a Magnum photographer he documented the Arab-Israeli War of 1948 and the final stage of the First Indochina War, in which he died a violent death at the age of 40. In addition to the Capa collection, Daniel Blau will also organise an exhibition of images depicting Germany's "misled youth" during Hitler's rule from 1933 to 1945. The exhibitions will be on display from 14-17 November 2013 at the Grand Palais, Avenue Winston Churchill, 75008 Paris.
Press Release
PARIS PHOTO 2013
ROBERT CAPA (1913 - 1954)
MISLED - GERMAN YOUTH 1933 - 1945

Daniel Blau is pleased to present two exceptional collections on the occasion of Paris Photo 2013:

Robert Capa (1913 – 1954)

Robert Capa, renowned war photographer and co-founder of Magnum Photos, died a violent death while covering the first
Indochina War in 1954. Had he lived, he would have turned 100 on October 22, 2013. As a centennial celebration of Capa's life and work we present a collection of rare vintage pictures documenting WWII in Europe from 1943-45, primarily in Sicily and France.

Misled / Verführt German Youth 1933-1945

An exhibition of photographs of German adolescents during Hitler's regime. This collection of images depicts a misled generation - children raised as soldiers, eager to become heroes but ultimately used as cannon fodder. This group of dramatic photographs has been carefully assembled over five years and is available as a set.
Image: Robert Capa (1913-1954)
"Nazi Surrender After Fierce Battle, France"
June 8, 1944
silver gelatin print on glossy fibre
paper, printed by July 24, 1944
15,6 (16,7) x 20,3 (21,5) cm
Courtesy: Daniel Blau Munich/London; Robert Capa © ICP / Magnum
Photos / Agentur Focus
Your Comments