Rogue Flash Bender XL Pro Lighting Kit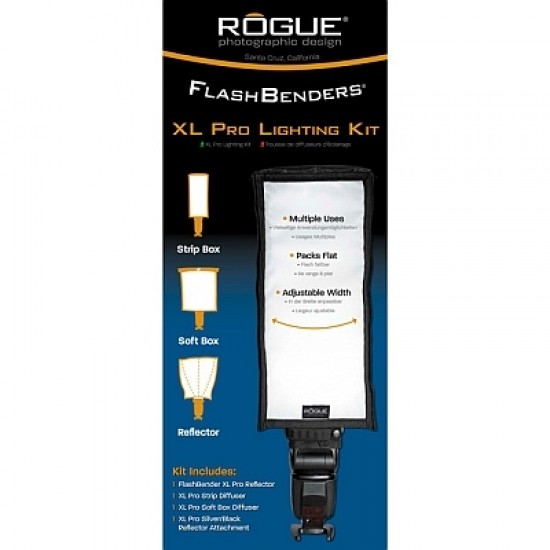 The XL Pro Kit is a new addition to the Rogue FlashBender lighting system. The kit includes a FlashBender XL Pro white reflector, an XL Pro Strip box diffuser, an XL Soft Box diffuser and a reversible XL Pro silver/black reflector. The Rogue XL Pro Lighting Kit is available to buy now, at a guide retail price of £90.
Rogue Press Release
ROGUE LIGHTS THE WAY WITH NEW XL PRO LIGHTING KIT
Brand new – as seen at Focus on Imaging – is the new Rogue Flashbender XL Pro Lighting Kit!
Fans of Rogue products will already know just how flexible these lighting systems are – perfect for use on location or in the studio.  And the FlashBender system just got a whole lot bigger with the new XL Pro Kit…including new accessories to make the system even more flexible for those wishing to take their creative photography to a new level.
For use with just about any speed-light, patented Rogue light modifiers offer versatility and maximum creative possibility in a minimum amount of space. Rogue FlashBenders pack flat, attach quickly, and change shape to allow a single reflector to control bounce flash and soften light, flag a background and control accent colour, or create a snoot spot light.
Rogue Diffusion Panels attach quickly and convert FlashBender reflectors into versatile soft boxes.
Based on the award winning design, the NEW kit includes:
1 x FlashBender XL Pro white reflector
- 13" x 16" (33cm x 41cm), 11 oz (310g)
1 x XL Pro Strip Box diffuser
(attaches to front of XL reflector)
-5.5" x 13" (14cm x 33cm), 1 oz (25g)
1 x XL Soft Box diffuser
(attaches to front of XL reflector) - 11.5" x 13" (29cm x 33cm), 2 oz (60g)
1 x XL Pro Silver/Black Reflector (reversible, attaches to front of XL Pro reflector)
- 13" x 14" (33cm x 35cm), 2 oz (55g)
NEW
The Rogue XL Pro Kit includes two brand new additions to the Rogue range:
1. The Silver & Black reflector attachment – allows two further options.  The silver reflector helps to create a higher contrast light, while the black side of the reversible attachment allows the FlashBender to be used as a large flag – providing limited reflectivity while the light is directed forward along the reflectors edge
2. The new Strip Box attachment allows photographers to create more edge lighting control than with the softbox.  The variable width control means that
photographers can choose how wide the light source will be and where the edge between highlight and shadow will fall.  This makes the strip box a super valuable accessory for creating rim or edge lighting effects.
The Rogue XL Pro Lighting Kit is available to buy now, at a guide retail price of £90.
For more detailed technical specifications please visit www.expoimaging.com
Your Comments