Rollei Announces Prego dp4200 Digital Camera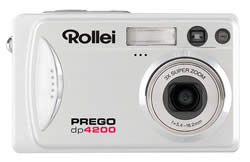 Rollei Press Release 02/08/04
The Slim-Down Digicam / Compact and Powerful
The extremely slim new Prego dp4200 digital camera by Rollei is the ideal "camera for all occasions" - with technical features to boot!
Actually, it's hard to believe how much "contents" you can squeeze into such a tiny package!  Rollei are now introducing a powerful, but ultra-compact 4.2-megapixel digital camera in an especially flat metal body, complete with 3x optical and 3.6x digital zooms plus video and voice-recording options. The Prego dp4200 will be available for 299 Euros (incl. VAT) from end of August 2004.
A mere 125 grams is what the Prego dp4200 weighs. And its dream measurements are 88.5 x 54.5 x 24 mm. In other words, it will hitch a hike in just about any pocket. And it will show off its versatility in just about any situation. As a mini video camera or dictation machine, for example. The Prego dp4200 will record video clips with 320 x 240 pixels and 15 frames per second in MPEG1 format (AVI). For brief voice commentaries, there are 30 seconds. A built-in microphone and loudspeaker make it all possible.
Conventional camera functions are enhanced by high-grade technical features. The 4.2-megapixel CCD of the Prego dp4200 makes the best of even larger print sizes than A4. Its 3x zoom lens f/2.8-4.8 covers a range of focal lengths which in 35mm photography are equivalent to about 32.4-97.2 mm. Plus there is a 3.6x digital zoom.
A large, 2-inch TFT LCD color monitor and an optical real-image zoom viewfinder make framing very simple and fast. Autofocusing takes care of perfect focus between 0.5 meter and infinity. Even close-ups are easy with the Prego dp4200. Macrofocusing is possible within 6 and 50 cm.
Most of the camera modes are available on Auto and Manual. For the built-in flash, for example, there are ? in addition to the auto modes ? "Fored", "Off" and "Red-eye reduction''". For difficult lighting situations, there are manual white-balance presets for "Daylight", " Cloudy", "Tungsten" or "Fluorescent 1 or 2". ?Forced?, ?Off? und ?Red-eye-reduction?. And exposure can be compensated manually in one-third increments over +/- 2.0 EV. A self-timer with either 2s or 10s delay makes for entertaining group photos.
Depending on the intended use and available storage space, you can select image quality from "Fine", "Standard" and "Economy". Using the Eonomy setting, for example, the possible 515 MB of an SD card can be put to optimum use. And if you wish to obtain even more space, you can transfer your data via the USB or video interfaces (NTSC, PAL) to your computer or TV set.
Specifications - Rollei Prego dp4200
? Sensor: 1/2.5?, 4.2-megapixel CCD
? Image resolution: 2272 x 1704 pixels, 1600 x 1200 pixels, 1280 x 960 pixels, 640 x 480 pixels
? Video clips: 320 x 240 pixel s (15 fps), MPEG1 (AVI)
? Sensitivity: Auto, equivalent to ISO 50, 100, 200
? Voice recording: 30 seconds
? Image quality: Fine, Standard, Economy
? Storage media: SD cards up to 512 MB
? LC display: 2.0? TFT color monitor
? Built-in microphone and loudspeaker
? Recording formats: MPEG1 (AVI), JPEG (EXIF 2.2), DCF, DPOF
? Lens: 3x f/2.8-4.8 zoom lens 5.4-16.2 mm HFT (equivalent to 32.4-97.2mm in 35mm photography)
? Zoom: Optical 3x, digital 3.6x
? Autofocusing:, 0.5 m to infinity
? Macrofocusing: 6 cm to 50 cm
? Shutter speeds: Automatically controlled from 1/2 s ? 1/1000 s
? Viewfinder: Optical real-image zoom viewfinder
? Exposure compensation: Auto, manually in 1/3 increments over +/-2.0 EV
? White balance: Auto, manual presets for daylight, cloudy, tungsten, fluorescent light 1 and 2
? Flash: Auto, forced, off, red-eye reduction
? Self-timer: 2 s, 10 s delay
? Interfaces: USB, Video (NTSC, PAL), AC/DC
? Power supply: 3-7V Li-Ion battery, AC adapter
? Dimensions (mm/wxhxd) 88.5 x 54.5 x 24
? Weight: 125 g (without batteries and card)
? Camera set: Rollei Prego dp4200, USB und video cables, 1x lithium-ion battery, wrist strap, case, AC adapter, 32MB SD card, MGI Photo Suite IV SE, Photo Vista 2.02 software, CD with drivers, operating instructions
System requirements
? PC: Windows 98/SE/ME/2000/XP, CD ROM drive, USB interface
? Apple Macintosh: Version 8.6 or higher, CD-ROM drive, USB interface
Specifications subject to change without notice.