Rollei iFootage Product Family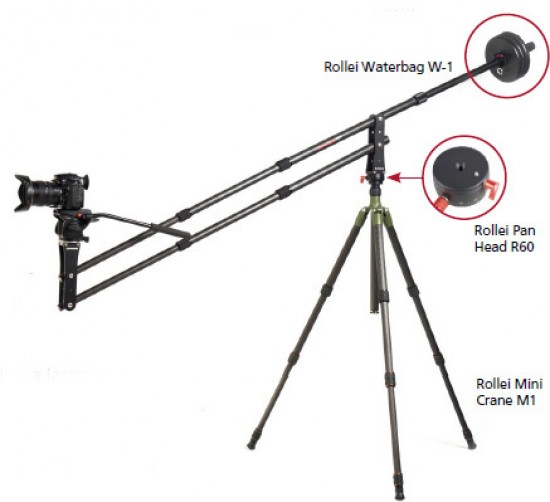 Rollei has launched a number of new products including the Rollei Mini Crane M1, the iFootage swvel head, the W-1 Waterbag, the R60 Pan Head and a monopod. The Mini Crane M1 with the iFootage swivel head is available for €549.95, the W-1 Waterbag for €29.95, the R60 Pan Head for €149.95, and the Rollei Monopod 1 for €199.95. Click through / read on for the details.
RCP-technik Press Release
Rollei expands its tripod series with the innovative iFootage product family! Available immediately in retail outlets.

Hamburg, 12 June 2013 – Right in time for the holidays Rollei is launching four new products at once, especially developed for hobby and professional photography. Upmarket design, tremendous versatility and great stability are once again just what to expect from Rollei.

The Rollei Mini Crane M1 is compact, light and easy to set up. Moreover, it has a large working radius, can be adjusted quickly and has multiple practical functions. The side panels have eight ¼-20 drill holes to which video lights, supporting booms, monitors or other accessories can be attached. The screw connection has a 4"-extension and two 3/8"-extensions to connect all tripods and ball heads. The level adjustment permits rapid height setting of Mini Crane and camera.

The Rollei iFootage swivel head ensures steady, even movement through its integrated fluid technology system. Thanks to special manufacturing processes, a long service life is guaranteed even when used outdoors. Included in delivery: extension arm, counterweight mount, connecting section, counterweight clamp, clamp lever, hand grip, hook, hex keys, bag and 3/8" adapter.

At a glance: High quality, black anodized surface consisting of six carbon fibre layers | Maximum radius: 120 cm | Length extended: 200 cm | Swivel length: 210 cm | Tube diameter: 30 mm | Tolerance: ± 0.05 mm | max. 5 kg load | Weight: 1,520 g. The recommended retail price is 549.95 euros.

The Rollei Waterbag W-1 serves to balance the Rollei Mini Crane M1 and is attached via the counterweight clamp. It is easy to fill with water (or sand) using the convenient plug. The recommended retail price is 29.95 euros.

The Rollei Pan Head R60 ensures smooth 360° rotation of the Rollei Mini Crane M1 thanks to its ergonomic design. The self-locking mechanism guarantees a reliable connection between the panorama head and tripod. It is suitable for photographic equipment up to 40 kg. The panorama head offers strong support, high quality and a long service life. A 3/8" adapter and user manual are also included in delivery. The recommended retail price is 149.95 euros.

The Rollei Mogopod 1 is a multifunctional accessory for cameras and video cameras. Precise markings on the inside tube and a convenient locking system make height adjustment especially easy and can in addition be used as measuring tool. Thanks to the two different connection heads with 3/8"- and ¼"-thread a wide range of cameras and accessories can be used, rendering a number of expensive photo accessories superfluous. In addition, the Mogopod 1 possesses a unique rotation system for rapid height adjustment. It can be used as monopod, flash holder or microphone stand. Thanks to its smooth retraction and extension, it can also be used as camera boom. The special ball head prevents unintended horizontal rotation. Fixed position of the connections is always guaranteed by a tolerance of ± 0.05 mm. The recommended retail price is 199.95 euros.
Your Comments