Samsung 18-55mm and 18-250mm Lenses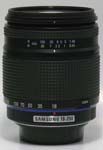 Samsung has launched two new DSLR lenses, the D-XENON 18-250mm F3.5-F6.3 and 18-55mm II F3.5-F5.6. Robert King, Commercial Director of Samsung Cameras commented "These two new lenses form part of the next step in Samsung's continued growth in the SLR market – the lenses used together with the new GX-20 offer superb quality and cutting-edge functionality." Available from March 2008, the price for the GX-20 with 18-55mm lens is £699. The price and release date for the Samsung 18-250mm superzoom lens is still to be confirmed.
Samsung UK Press Release
4 January 2008 - Following the launch of the 14.6 mega-pixel GX-20 digital SLR, Samsung, leaders in digital imaging, today announces the launch of two new lenses, the D-XENON 18-55mm II F3.5~F5.6 and the 18-250mm F3.5~F6.3. These two lenses are compatible with the GX-20 and Samsung's popular GX-10 DSLR giving both GX-20 and GX-10 series users even more freedom to express their creativity. 
Robert King, Commercial Director of Samsung Cameras says, "These two new lenses form part of the next step in Samsung's continued growth in the SLR market – the lenses used together with the new GX-20 offer superb quality and cutting-edge functionality."
The GX-20 and lenses are expected to be available from March 2008, price for the GX-20 with 18-55mm lens - £699 RRP (price for the 18-250mm lens is TBC). Customers requiring further information should call 00 800 122 637 27 or visit www.samsungcamera.co.uk
Your Comments