Samsung Announces Digimax U-CA 505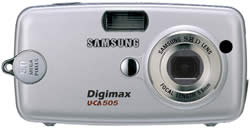 Samsung USA Press Release
SAMSUNG CAMERA PACKS 5 MEGA PIXEL POWER AND HOST OF IMPRESSIVE FEATURES IN AN ULTRA-THIN PACKAGE
Digimax U-CA 505—Small Enough to Fit In the Palm of Your Hand
LAS VEGAS, N.V., (January 6, 2005) – Thin is in at the 2005 CES show in Las Vegas, as all of the top digital camera manufacturers will be showing their slimmest, most compact models on the exhibit floor.  Samsung Camera is no exception and the new Digimax U?CA 505 is a perfect example of the trend toward thin this year.  Sleek, compact and ultra thin (97mm x 52mm x 25mm), the new Digimax U-CA 505 packs a ton of impressive features into a stylish body that's small enough to take anywhere.  A 5 mega pixel camera with 5x digital zoom, the U-CA 505 is destined to become the camera of choice for style conscious consumers who travel light and want to catch life's excitement along the way.
Although small in size, the U-CA 505 is very big on features.  Beginning with its 5.0 mega pixel image sensor, the U-CA 505 is designed to deliver high quality images, storing them either in its internal 16MB of flash memory or onto a SD/MMC card.  As an added feature, images can be transferred from the internal memory to the SD card essentially freeing up the camera. This allows photographers to shoot without an additional card and transfer images at their leisure. 
The U-CA 505 also transfers images quickly and easily to a computer via the built-in USB interface or directly to a printer, as the camera features Pictbridge technology.  Another user-friendly feature is the Self Photo Mirror, located on the front of the camera. Shooters can now take the "hit or miss" out of taking their own photographs!
A combination mechanical and electronic shutter provides high-speed image capture up to 1/1000 of a second or for up to 8 seconds in the camera's Night Mode, allowing photographs to be captured in almost complete darkness.
Besides the U-CA 505's ultra-thin body, another head turner is its 2-inch color TFT LCD screen. Bright enough for use in all settings, the U-CA 505 is the ideal camera for all applications. The U-CA 505 also features 8 white balance modes including custom settings, further ensuring great pictures and perfect color rendition whatever the lighting may be.
Even in a camera with such diminutive dimensions, Samsung kept ergonomics in mind throughout the design process.  The U-CA 505 fits nicely into the palm of the photographer's hand, and offers quick and easy access to a host of controls through a few simple buttons and an easy to navigate graphical user interface (GUI).  Many of the camera's controls are accessed through the large 2-inch color TFT LCD screen. The     U-CA 505 allows image compression to be adjusted from the standard Normal mode to either Fine or Super-Fine.

The U-CA 505 not only captures perfect still images, but also records video at up to 24 frames-per-second with audio at 640x480 dpi. Movies, as well as photographs, can be played back on the built-in LCD screen, providing an on-location way to check one's directorial skills.  The camera also features video out in addition to USB and is supported by two different power sources, including a rechargeable Li-ion and the Duracell CP1.
Proving that it's possible to create a camera that's both compact and full featured, the U?CA 505 provides enormous creative controls for the photographer in a small package. With a retail price of $199.99 the Samsung U-CA 505 is the perfect choice for every photographer.
Samsung Opto-Electronics America, Inc., Secaucus, N.J., is the U.S. subsidiary of Samsung Techwin Co., Ltd., Sungnam Kyungki-Do, Korea.  Samsung Opto-Electronics markets a full line of auto focus cameras, zoom and digital cameras for the amateur as well as the professional under the Samsung brand name. CCTV monitors and lenses, motorized zoom lenses, binoculars, observation and security systems, and video presenters are other products in the family of photographic and optical equipment.
Visit the Samsung Cameras Web site at:
www.samsungcamerausa.com