Samsung Announces Digimax V6 Digital Camera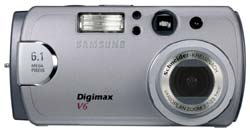 Samsung Camera Press Release 15/11/04
SAMSUNG ADDS 6-MEGA PIXEL V6 MODEL TO ITS HIGHLY SUCCESSFUL V SERIES LINE OF DIGITAL CAMERAS
SECAUCUS, N.J., (November 15, 2004) - Samsung Camera today announced the launch of the Digimax V6 six mega pixel digital camera, the latest introduction to the highly successful Digimax V Series range of compact digital cameras.  The V6 is one of three new models added to the Samsung Digimax range of digital still cameras for the 2004 holiday season.  With world-renowned Schneider optics, 6 mega pixel clarity, support for nine different power sources and a street price of just $399.99, it is sure to be one of the most popular holiday gifts of 2004.
The V6 offers a number of signature V Series features and technologies, including Schneider optics, support for nine different power sources, three customizable user profile settings and a super macro feature that lets the user shoot subjects as close as 6cm away in manual mode.  With a host of additional features including 12x zoom (3x optical, 4x digital), auto and manual shooting modes and the ability to record up to 2 hours of audio, the Samsung Digimax V6 is the only camera in its class to offer all of this, plus the brilliant clarity of 6 mega pixel photos.
The Samsung Digimax V Series digital cameras were designed to substantially expand the boundaries of creativity for digital imaging enthusiasts of all shapes and sizes.  All of the V Series cameras offer a number of innovative features in a stylish, intuitive and affordable package. 
V Series for Versatility
One of the many features that sets the Samsung Digimax V Series cameras apart from their peers is the ability to support nine different power sources including CR-V3 Lithium, AA alkaline, Ni-Mn, Ni-Zn, Ni-MH, Ni-Cd, SRB-1437 or SBP-1103 rechargeable Li-Ion batteries, and an AC adapter.  In combining such an incredible array of power options with innovative new low power circuitry, the Digimax V Series cameras come with an unprecedented level of flexibility and reliability.  While certainly impressive, multiple power sources are not the only firsts offered by the V Series cameras.  They are also the only cameras in the world that combine world-renowned Schneider optics with advanced manual shooting capabilities to create a Super Macro function that allows users to capture brilliant images from as close as 6 cm away.  Once you?ve captured the image you want, Samsung?s trimming and resizing functions allow you to edit the image right on the LCD ? without even connecting to a PC.
And even though every picture is worth 1,000 words, sometimes you want to add a few of your own.  The V Series cameras offer the perfect solution, allowing users to add 10-second audio captions to still images, record audio to accompany their movie clips and record up to 2 hours of audio alone, depending on the capacity of the memory card in use.  Digimax V Series cameras come bundled with a 32 MB SD memory card, as opposed to the 16 MB capacity typically included with competitive products. 
Form and Function
While you might expect a camera with this many unique features to look like something from out of this world, the exact opposite is true of the V Series cameras.  In combining its expertise as the world?s leading chip manufacturer with its commitment to ergonomic design principles, Samsung has succeeded in putting all of these remarkable features into a sleek, user-friendly and familiar looking camera body. The V Series cameras feature incredibly intuitive ergonomic designs, allowing even the casual amateur photographer to start taking great digital photos right out of the box. 
The convenient shooting mode dial allows users to easily choose from multiple shooting modes including easy, program, portrait, night scene, movie clip, voice recording and A/S/M (aperture, shutter, and manual).  An easy to use 4-way key and OK button allows users to navigate the options menu and provides quick and easy access to a variety of features including flash, self-timer, MIC and metering.  The brightness level of a vibrant, 1.5? color TFT LCD monitor on both models is adjustable to ensure easy viewing and reviewing of images in any lighting conditions.  The ?My Set? function allows users to personalize their cameras like never before by choosing up to 9 different camera settings such as image size, quality and ISO and saving them in a customized profile.  By allowing users to create up to three different ?My Set? profiles, only the Samsung Digimax V Series cameras provide the ability to be ready to shoot superior quality images in any conditions at the touch of a button.
Built for Speed
The Digimax V Series cameras combine style with substance, and both were designed for speed.  All three cameras power up in less than 3 seconds, announcing their readiness with a sound effect and graphics on the LCD display.  The start up image on the LCD can even be customized on the V Series cameras, allowing the user to choose their favorite photo as a personal start page.  The cameras? ?Quick Play? feature allows users to immediately review single images, thumbnails, slide shows and movie clips at the touch of a button ? even when the power is off. 
The V Series cameras feature single, continuous and auto bracketing shooting modes.  With the high-speed auto bracketing feature, 4 ~ 1/2,000 frames per second can be captured with different exposures.
Everything You Expect From a Samsung Camera
The V Series line supports multiple file formats, including TIFF, JPEG and DPOF for still images, as well as AVI (MJPEG) for movie clips and WAV for audio files.  All V Series cameras come bundled with a variety of valuable software to make viewing, editing and sharing images easy, including Digimax Viewer and either Roxio PhotoSuite , Roxio Videowave or ArcSoft PhotoImpression.
They offer multiple language support including English, French, Italian, German, Spanish, Korean, Russian, Portugese, Swedish, Danish, Dutch and more.  All V Series cameras come equipped with a full compliment of accessories, including a stylish carrying case, USB cable, user selectable NTSC/PAL video cable, and applications and software driver CD-ROM and a wrist strap.
Samsung Opto-Electronics America, Inc., Secaucus, N.J., is the U.S. subsidiary of Samsung Techwin Co., Ltd., Sungnam Kyungki-Do, Korea.  Samsung Opto-Electronics markets a full line of auto focus cameras, zoom and digital cameras for the amateur as well as the professional under the Samsung band name. CCTV monitors and lenses, motorized zoom lenses, binoculars, observation and security systems, and video presenters are other products in the family of photographic and optical equipment.
Visit the Samsung Cameras Web site at:
www.samsungcamerausa.com