Samsung Develops World's Slimmest Mobile LCD Screen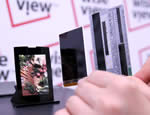 Samsung Press Release
Seoul, Korea, November 21, 2006 : Samsung Electronics Co., Ltd., the world's largest provider of thin-film transistor, liquid crystal display (TFT-LCD) panels announced today that it has developed the thinnest reported LCD panel, one no thicker than a credit card at 0.82mm, which is 0.07mm thinner than the panel previously reported to be the world's slimmest. The company also announced that it has developed a new mobile technology, which it is calling, "i-Lens", for integrating the entire panel assembly, including a protective layer, into a single, thinner module that is more shock-resistant and easier to read than conventional panels. Executive Vice President Yun Jin-hyuk, in charge of the Mobile Display Team within the Samsung Electronics LCD Business division, said," Samsung's R&D initiatives, including LCD module thickness reduction and reinforced shock resistance, will enable our customers to develop truly differentiated and more reliable, ultra-thin mobile products."
To achieve the slimmer package size, Samsung's Mobile Display Team redesigned the light guide plate subassembly and the glass substrate, which accounted for most of the LCD module's thickness.
Samsung has further contributed to the trend toward slimmer phones with its new i-Lens technology. The result is a thinner, highly integrated LCD module that protects the mobile phone's main display better than previous designs, making it more resistant to damage from shock and vibration. In deploying Samsung's i-Lens technology, manufacturers can trim 1.4 to 2.4mm from the thickness of a mobile phone.
Today, a typical mobile phone screen leaves a 2 to 3mm space above the panel before attaching a reinforced plastic sheet to protect the LCD module. In Samsung's new i-Lens process, a shock-resistant protective sheet is fastened directly to the LCD module, thereby eliminating the space between it and the panel surface. With i-Lens, the thickness of the LCD module is reduced to a mere 0.82mm, while resolving the sunlight reflection problem inherent in the use of reinforced plastic. As a result, the panel is much easier to view outdoors.
The new LCD screen is available in 2.1 inch-diagonal and 2.2-inch-diagonal screen sizes. It features qVGA (240 x 320 pixels) resolution, 300nit brightness and a 500:1 contrast ratio. Mass production is scheduled to begin in the second half of 2007.
About Samsung Electronics
Samsung Electronics Co., Ltd. is a global leader in semiconductor, telecommunication, digital media and digital convergence technologies with 2005 parent company sales of US$56.7 billion and net income of US$7.5 billion. Employing approximately 128,000 people in over 120 offices in 57 countries, the company consists of five main business units: Digital Appliance Business, Digital Media Business, LCD Business, Semiconductor Business and Telecommunication Network Business. Recognized as one of the fastest growing global brands, Samsung Electronics is a leading producer of digital TVs, memory chips, mobile phones and TFT-LCDs. For more information, visit www.samsung.com