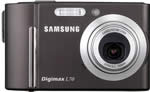 The Samsung Digimax L70 is announced today. This 7 megapixel digital camera features a 2.5 inch LCD screen and innovative nine button touch and click control pad. The Samsung L70 is expected to be available in September for around £230.
Samsung UK Press Release
4 August 2006, London, UK - Samsung Cameras is adding to its popular Digimax range of digital compact cameras with the launch of the stylish yet user-friendly Digimax L70.  Featuring 7 mega pixels the Samsung L70 can be used by photographers of all levels to produce high quality results. With its sleek look and slim 17.5mm design the Digimax L70 boasts a large 2.5" LCD screen for great viewing of pictures. The brightness of the LCD is automatically adjusted to the intensity of the environment helping to prolong battery life. For enhanced picture quality the Samsung L70 comes complete with three times optical zoom lens barrel to allow for brighter, faster and more professional results.
The innovative user interface makes navigating the controls on the L70 ultra convenient.  All the function keys have been integrated into a nine button touch and click control pad. This control pad enable fast access to comprehensive photo settings. The L70 supports high sensitivity ISO 1000, enabling images of moving objects to be captured even in low light and with Samsung's unique Advanced Shake Reduction technology (ASR) the perfect picture can be taken anytime.
The advanced, yet easy to navigate functions allow for ultimate picture quality while the hand grip on the L70 promotes more stable shooting. This combination of convenient, easy to use features and the stylish slim design makes the Samsung Digimax L70 the ideal digital compact camera for all your photographic needs.
Key features
·                    L70 features 7.2 mega pixels
·                    Easy-to-use touch and click interface
·                    Stylish metal design
·                    3 x optical zoom
·                    Bright 2.5" colour LCD screen
·                    Movie function with built in pause, editing functions (VGA, 30fps) and optical zoom during recording
·                    Dimensions: 96.8 (W) x 61.8 (H) x 26.4 (D)
·                    Weigh approx. 136g
The L70 is expected to be available in September, for a retail price of about £230.
Specifications are subject to change. Accessories are available for each camera, including a transfer and charging cradle and camera case.
About Samsung Cameras
Samsung Cameras is a leading-edge expert in delivering high-end digital cameras for today's and future generations of photographers by merging technical innovation with superior design. Samsung's global brand image has been enhanced tremendously in recent years – it is believed to be in the top 20 of the world's most powerful brands, and is recognised as the fourth fastest-growing brand in the world, according to Interbrand.