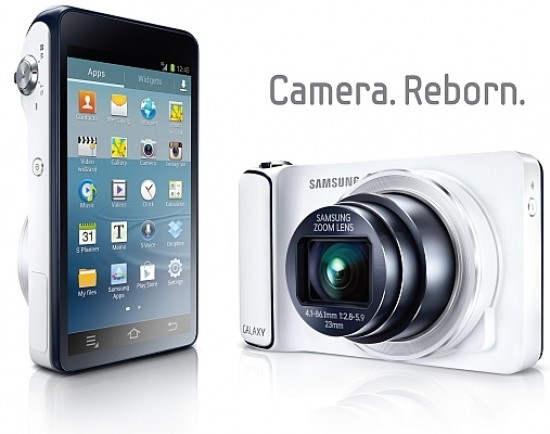 The Samsung Galaxy Camera is a sixteen-megapixel superzoom camera with a 4.8" high-definition capacitive touchscreen, 21x optical zoom, optical image stabilisation, and Android 4.1 Jelly Bean operating system with Wi-Fi and 3G/4G connectivity. The 4.1-86.1mm f/2.8-5.9 lens offers an angle-of-view range equivalent to that of an imaginary 23-483mm lens on a 35mm camera body. In addition to taking 16-megapixel stills, the Samsung Galaxy Camera can also record Full HD movies as well as slow-motion video at up to 120 frames per second. The remote viewfinder feature allows you to see what the camera sees on the display of your smartphone and take a picture from a distance - useful for shooting timid wildlife, for instance. The Samsung Galaxy Camera even offers voice control - you can command the camera to zoom in, zoom out and take a shot without touching it.
The Samsung Camera will be on display at the Samsung booth #20 at IFA 2012 in Berlin. Pricing and availability have yet to be communicated.
Samsung Press Release
Samsung Presents 'Camera. Reborn.' – the GALAXY Camera
The new device combines leading-edge camera capabilities with Android™ 4.1 Jelly Bean and wireless network connectivity, letting users shoot, edit and share images easily anywhere, at any time
At the IFA 2012 in Berlin, Germany, Samsung Electronics Co., Ltd, a global leader in digital media and digital convergence technologies, has today announced the launch of the GALAXY Camera. Developed to fit the changing ways we communicate, the GALAXY Camera combines high performance photography with the latest Android™ 4.1 platform, so called Jelly Bean, and wireless network connectivity, creating a brand new type of device. Samsung GALAXY Camera fits perfectly for those who wish to shoot, edit and share high quality photographs and video easily and spontaneously from anywhere, at any time.
The GALAXY Camera makes outstanding photography on the go. Users never again have to sacrifice picture quality if they want to edit and share their photos instantly. It easily outperforms any smartphone camera. The GALAXY Camera, boasting a 21x super long zoom lens and a super-bright 16M BSI CMOS sensor, delivers pictures in brilliant quality. The device also features 'Smart Pro' technology, a series of modes that make professional-looking photography easy for anyone to achieve. What truly revolutionizes this photography experience is Android™ 4.1 Jelly Bean and wireless connectivity, which opens up the device to applications for photo-editing, sharing, and much more. Users will experience all of GALAXY Camera's great features on a market-leading HD Super Clear LCD. With stunning clarity, incredible ease-of-use and unparalleled connectivity, the GALAXY Camera is the next step in imaging innovation.
Shoot stunning quality images
The GALAXY Camera's 'Smart Pro' feature makes it easy to recreate advanced photographic setups in just a few simple steps for stunning artistic results. Using the easy-to-navigate menu system, users can choose from a series of preset scenario options which will automatically adjust the camera's settings in order to capture the perfect photo.
Enjoy your photos and video on a world-leading display
The GALAXY Camera boasts large and vivid enough camera display – a 4.8"(121.2mm) HD Super Clear LCD screen, which makes it a pleasure to shoot, share and edit images from the palm of the hand. Another advantage of smartphone technology is the Voice Control option which allows the user to control a number of functions such as 'Zoom in' and 'Shoot' through voice.
Share your images anywhere, anytime
The camera's convenient 'Auto Cloud Backup' feature will automatically save precious photos into the cloud via Samsung's AllShare the instant they are taken. The GALAXY Camera also allows users to share photos at the same time as they shoot them with 'Share Shot.' As well as sharing to social networks and cloud services, users can also connect to a range of GALAXY devices including the GALAXY SIII and GALAXY Note II for effortless and automatic sharing of pictures across the GALAXY family.
Samsung GALAXY Camera will be on display at the Samsung booth #20 at IFA 2012, Aug 31 through Sep 5. For more information on GALAXY Camera, please visit www.samsungmobilepress.com
Full details, video content and product images are available at Samsung's IFA 2012 microsite: http://samsungifa2012.com or mobile site: m.samsungifa.com
Image Gallery
Click on a thumbnail to see the full version.
Your Comments