Samsung Galaxy Camera Interview: £399, October Launch, First of Many Android Cameras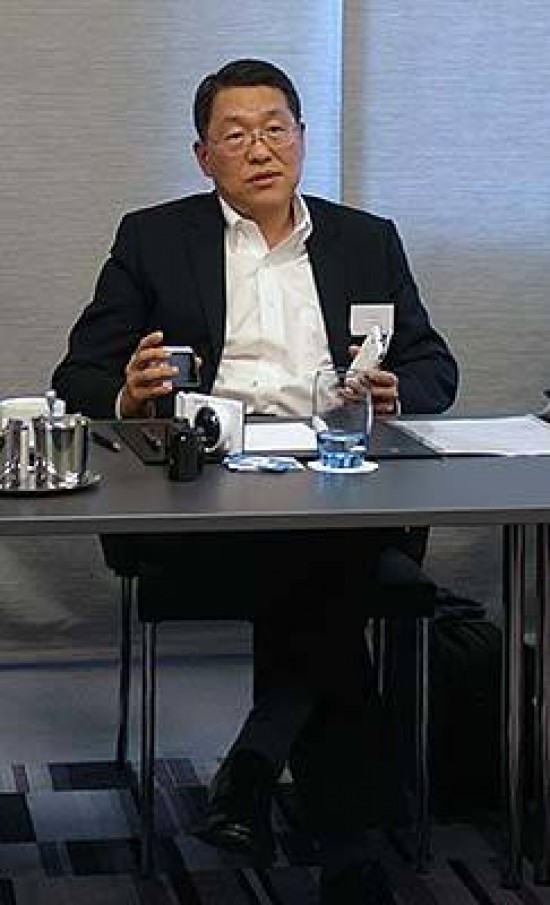 We sat down with SH Lim, Vice President, Samsung Digital Imaging, HQ, at the IFA show in Berlin to discuss the new Samsung Galaxy Camera and Samsung imaging products in general.
Q. Will all future Samsung cameras have Android?
A. No – depends on consumer needs. People want to connect more, so we will move in that direction. Wi-fi connectivity will make its way down the compact range.
Q. Will there be a Windows 8 camera?
A. Good question. Maybe! Android is the most popular current OS, so we will focus on that at the moment.
Q. Who will be the 3G carriers?
A. We're in discussion with them around the world currently. TBC.
Q. Will there be a smaller screen version? Too big for pocket?
A. It's designed for carrying in a bag.
Q. Battery life?
A. 7 hours continuously, longer if used just as a camera – 290 shots.
Q. How do you upgrade the Android OS?
A. Via wireless connection = very easy.
Q. Did customers want voice commands?
A. Yes. There's also gesture control as well on some compacts. We want to provide more options for engaging with the products.
Q. How long did it take to develop?
A. Around one year, a little longer.
Q. Any plans for DSLRs?
A. Still thinking. DSLR market is stable and won't grow that much in comparison with compact system cameras, which have priority. There's still the potential to work with partners like Pentax.
Q. Was the Samsung Galaxy team involved?
A. 10x more people involved than in a usual camera project.
Q. What's the sensor size?
A. 1/1.7 inch.  This is the first model – if there's demand we could expand the range to include larger sensor sizes.
Q. Will customers be confused about the Galaxy Camera concept?
A. It's a new category, so we need to educate. The Galaxy Camera was born from consumer insight – satisfying consumer needs. We're calling it a "Smart Camera".
Q. Optical quality and file quality are lost when editing and sharing photos – are you worried?
A. There's a  strong demand for high quality images, and also the need for editing, cropping etc.
Q. Are you working with Instagram to allow zooming within the apps?
A. Yes.
Q. Are you developing apps?
A. Yes.
Q. Can the Galaxy Camera shoot RAW?
A. No.  Maybe via a third party, but not known.
Q. What accessories are there?
A. If strong demand – no plan to release anything currently. Just prototypes of ring-flash,  viewfinder, and a wide-angle teleconvertor. There may be plans to release a version of the Galaxy Camera with a detachable electronic viewfinder.
Q. Where's it made?
A. China.
Q. Main online feedback is why is there no phone?
A. You can make calls with Skype and a Bluetooth headset.
Q. Manual controls important?
A. We want to cater for first-time users and experts, therefore we've provided a range of modes.
Q. Who is the Smart Pro mode aimed at?
For beginners, and Casual too.
Q. Number of voice control functions?
A. Camera = 12
Gallery = 7
Q. Why the MicroSD format?
A. To make the camera thinner. Also now in 64Gb version. Also there is 8Gb of built-in memory for unlimited apps.
Our dream is to release products that don't need a manual.
Q. Is there an S-pen,  as with the Galaxy Note products?
A. Not included.
Q. Global release?
A. Depends on operators, but there shouldn't be too big a time difference between territories.
Q. UK price?
A. £399, launched in the middle of October.
Q. Cloud Backup?
A. 50Gbs free for 2 years – then drops to 5Gbs. You can also pay to increase the cloud size.
Q. What do you think the camera market landscape will look like in 4 years time?
A. Exciting moment – critical for camera industry, as smartphones are now 5x bigger than digital camera market (660 v 120 million units). On the other hand this is a great opportunity, as all smartphones are encouraging people to become more regular camera and camcorder users. We aim to make the camera complimentary,  more convenient and usable – it can grow together with smartphones.
Compact system cameras are growing fast – 65% globally,  higher than smartphones – making them one of the fastest growing industries worldwide. We've launched 3 new CSC models in 2012.
Q. Will there be another new NX camera in 2012?
A. No – they have all been released.
Q. Will we see Android in NX products?
A. Can't comment. Focusing on the Galaxy Camera at the moment.
Your Comments