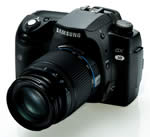 The Samsung GX-10 and 5 new lenses are announced this morning. The Samsung GX10 is a 10 megapixel digital SLR camera a 2.5 inch LCD screen, built-in Optical Picture Stabilization technology (CCD Shift), dust removal function, water-proof and anti-dust coating, one-touch RAW button and continuous shooting at 3 fps. The Samsung GX10 and lenses are expected to be available from October, with the price being announced at that time.
Samsung UK Press Release
London, UK. Samsung today announced the launch of the 10.2 mega-pixel Samsung GX-10 digital SLR, the first DSLR from the company to be positioned firmly towards the discerning enthusiast photographer searching for comprehensive functions, stunning design, ease of use and real value for money - all in one camera.  Samsung also announced the launch of five more lenses, that each would be released before the end of 2006, giving GX-10 and GX-1 series users alike even more freedom to express their creativity through the Samsung DSLR range.
Photokina Update: We now have some product photos live from Photokina 2006 - just click the link below to view them.
Intelligent design
The GX-10 boasts a 10.2 mega-pixel image sensor, which offers the photographer a sharper image, with richer colours for a truly compelling composition.  Taking photos is made easier with the PentaPrism viewfinder with its high magnification (0.95x) to provide a clearer, wider field of view (95%) for optimum shooting. For unrivalled viewing of photos the GX-10 also comes complete with a wide view 2.5" TFT LCD (210k pixels). With its powerful built-in Optical Picture Stabilization (OPS) technology, the GX-10 prevents blurred pictures by shifting the CCD to counter any movement of the camera's body. OPS also uses the lens information to ensure results remain sharp every time.
The advanced design features of the GX-10 ensure it is robust enough for taking quality pictures in even wet, sandy or dusty conditions as the camera comes equipped with a special water-proof and anti-dust coating. The advanced dust removal function included in the GX-10 also removes potentially problematic dust from the CCD by vibrating it automatically when the camera is booted, resulting in perfect blemish-free pictures with minimum effort on the part of the photographer.  A further dust barrier is provided by the special coating on the CCD's protective window.
With the one-touch RAW button, built into the GX-10, RAW file shooting is made simple and instantly available to users even during general JPEG shooting.  The RAW files can be checked on the LCD and then be directly converted to JPEG format via the built-in converter for convenience.
With the GX-10, continuous shooting at 3 fps (frames per second) is possible; RAW files can be shot at the same speed up to 9 frames; giving the user the best chance to get a great picture.
The GX-10 has been designed to let the photographer customize and take control of their camera with the My Set Dial option allowing you to personalise your dial settings by choosing your most frequently used functions for ultimate ease of use.
A comprehensive lens offering
Samsung also announced that five kinds of lenses will be launched by the end of 2006.  These lens have been designed to enable real freedom in the creative process and include: fish eye lens (fish eye 10-17mm F3.5-F4.5 ED), an ultra wide zoom lens (12-24mm F4 ED AL), a wide zoom lens (16-45mm F4 ED AL), a fixed focus lens (35mm F2 AL) and a macro lens (Macro 100mm F2.8).  The lenses will also be compatible with the DSLRs launched by Samsung earlier in the year – the GX-1S and GX-1L which were aimed towards the serious amateur photographer.
Pricing and availability
The GX-10 and lenses are expected to be available from October, with the price being announced at that time.
Key features:
·    Professional digital SLR camera with 10.2 mega-pixel CCD sensor
·    OPS (optical picture stabilization) Shake reduction with image-sensor shift mechanism
·    Dust-free CCD with dust removal system
·    Impenetrably built, resistant to water, sand, or other potentially harmful materials
·    Field of view 95%, bright PentaPrism viewfinder (0.95x magnification)
·    Brightness adjustable and wide-angle view 2.5" TFT LCD (210K)
·    Raw file format support (including converting)
·    Continuous shooting of 3 pictures per second (up to memory full)
·    Support high sensitivity ISO 1600
·    TTL phase-matching 11 points wide AF
·    TTL open-aperture 16 segment metering system
About Samsung Cameras
Samsung Cameras is a leading-edge technology company delivering high-end digital cameras for today's and future generations of photographers by merging technical innovation with superior design. Samsung's global brand image has been enhanced tremendously in recent years – it is believed to be in the top 20 of the world's most powerful brands, and is recognised as the fourth fastest-growing brand in the world, according to Interbrand.