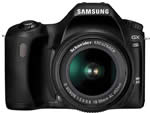 The Samsung GX-1S digital SLR is unveiled today. DIWA member and Norwegian website Digit.no has the scoop on the new Samsung GX-1S digital SLR camera. The Samsung GX-1S is a 6 megapixel digital camera that uses the Pentax lens mount and the new Schneider D-XENON lenses. The GX-1S has a large 2.5 inch LCD screen, ISO range of 200-3200 and continuous shooting speed of 2.8 fps up to 8 frames in JPEG mode. If it looks at all familiar to you, that's because the GX-1S is a rebadged version of the Pentax *ist DS2. Digit.no have kindly sent us the English version of the full specification for the Samsung GX-1S - just click the Read the Full Story link below to view the spec, full press release and larger pictures.
Update - 11pm 16th January
Samsung UK have now released the official press release…
Samsung is announcing its advance into the digital SLR (Digital Single Lens Reflex) camera arena with the launch of the six mega-pixel GX-1S.
Launching in February, the new interchangeable lens GX-1S is Samsung's first digital SLR camera, developed in conjunction with Pentax. Samsung now provides a full offering of digital cameras to cater for the needs of everyone - from point and shooters to advanced enthusiast photographers.
Offering high portability and mobility through its compact design, the GX-1S will weigh just 505 grams and house a 23.5mm x 15.7mm CCD image sensor. The 3200 ISO equivalent allows high sensitivity shooting in indoor environments.
The GX-1S also provides a continuous shooting speed of 2.8 frames per second (up to eight frames in JPEG mode).
Lens
The GX-1S will utilize the new advanced Schneider Kreuznach D-Xenon lens system and Pentax's lens KAF bayonet mount technology - all Pentax DSLR lens will be mountable on the GX-1S.
Viewfinder
The large TFT colour LCD screen (2.5 inch and 210K pixels) and Pentaprism technology ensure a clear and bright view.  The field of view is 95% with magnification at 0.95x (50mm F1.4 lens).
Focusing, Shutter & Flash
Modes include AF Single (with focus lock) and manual focus together with continuous AF . Shutter speed is 30 ~ 1/4,000 sec. with Bulb. The flash is a built-in retractable P-TTL auto pop-up offering the following modes: Auto, Manual, Auto/Red-eye reduction, Manual/red-eye reduction. Angle of view coverage is 28mm wide-angle (equivalent to 35mm). Recharge time is 3 seconds.
Samsung announced its vision of becoming a world class digital camera manufacturer in May 2005. Since then, Samsung has seen strong success and rapid sales growth via the launch of innovative slim style cameras such as the Digimax i5 and i50 MP3. Its advanced technology was recognized again in the high-end camera Pro815 for semi-professional photographers.
For a complete list of stockists & further information, call the free phone Samsung Cameras information line on: 00 80 0122 63727 or visit www.samsungcamera.co.uk
Specifications
Image Sensor?
Type 23.5mm x 15.7mm CCD
Effective Pixel Approx. 6.1 Mega-pixel
Total Pixel Approx. 6.3 Mega-pixel
Lens
Mount PENTAX KAF bayonet mount
Usable Lens
Schneider D-XENON Lens
* All PENTAX DSLR lenses are available.
* KAF2 (not power zoom compatible), KAF mount lenses, KA mount lenses
Viewfinder?
Type Pentaprism, Natural-Bright-Matte Focusing Screen
Field of View 95%
Magnification 0.95X (50mm F1.4 lens•?)
Diopter Adjustment -2.5 ~ +1.5m-1
LCD Monitor
Low-temperature polysilicon TFT color LCD monitor 2.5" (approximately 210,000 dots)
Focusing
Type TTL phase-matching 11 points wide AF
Modes
AF Single (with focus lock), Manual focus
Continuous AF
Shutter
Type Electronically controlled vertical-run focal plane shutter
Speed 30 ~ 1/4,000 sec. with Bulb
Exposure Control?
Metering System TTL open-aperture 16-segment (coupled with lens and AF information)
Metering
Multi, Center-weighted, Spot
Compensation ±2 (1/3EV or 1/2EV steps)
ISO Equivalent Auto, 200, 400, 800, 1600, 3200
Flash
Type Built-in retractable P-TTL auto pop-up flash
Modes Auto, Manual, Auto/Red-eye reduction, Manual/Red-eye reduction
Guide Number 15.6 (at ISO 200)
Angle of View
Coverage
28mm wide-angle (equivalent to 35mm)
Sync. Speed 1/180 sec.
Recharging Time Approx. 3 sec.
External Flash SEF-36PZF (optional)
White Balance
Auto, Daylight, Shade, Cloudy,Tungsten, Fluorescent (W, D, N), Flash, Manual
Shooting Modes
AUTO SCN, Normal, Portrait, Landscape, Macro, Moving Object, Night scene
Portrait, Flash off, Program AE, Shutter Priority AE, Aperture Priority AE, Manual, Bulb
Drive Modes Single, Continuous, Auto Bracket
Continuous 2.8 fps up to 8 frames (JPEG), 5 frames (RAW)
Self-timer
2 sec., 12 sec., Remote control,  Remote control 3 sec
Storage
Media SD Card (up to 1GB guaranteed)
File Format RAW (PEF), JPEG (DCF), EXIF 2.21, DPOF 1.1, PictBridge 1.0
Image Size 3008 : 3008x2000, 2400 : 2400x1600, 1536 : 1536x1024 pixels (JPEG)
3008 : 3008x2008 pixels (RAW)
Capacity (128MB) 3008 : RAW 10   Super Fine 33   Fine 68   Normal 114
2400 :  -    Super Fine 50   Fine 94   Normal 158
1536 :  -    Super Fine 103   Fine 169   Normal 266
* These figures are measured under Samsung's standard conditions and
may vary depending on shooting conditions and camera settings.
Image Play
Type Single image, Thumbnails, Slide show
Editing Rotate, Digital Filter
Digital Filter B&W, Sepia, Soft, Slim
Interface
Digital Output Connector : USB 2.0 (HI-SPEED)
Video Output : NTSC, PAL (user selectable)
DC Power Input Connector : DC 6.5V
Power Source
4xAA Lithium, Alkaline, Ni-MH, 2xCR-V3 (Lithium) batteries
Dimensions (WxHxD)
125x92.5x67mm (excluding the projecting parts of the camera)
Weight
505g (body only, without batteries and card)
Operating Temperature
0 ~ 40 °C
Operating Humidity
5 ~ 85%
Software
Camera Driver Storage Driver (Windows 2000/ME/XP, Mac OS 9.0 or later)
Application Digimax Master
* Specifications are subject to change without prior notice.
* All trademarks are the property of their respective owners.
System Requirements GX-1S
For Windows?
PC with processor better than Pentium III 450MHz
(Pentium 700MHz recommended)
Windows 2000/ME/XP
Minimum 256MB RAM (512MB recommended)
250MB of available hard disk space (1GB recommended)
USB port
CD-ROM drive
1024x768 pixels, 16-bit color display compatible monitor
(24-bit color display recommended)
For Macintosh
Power Mac G3 or later
Mac OS 9.0 or later
Minimum 256MB RAM
250MB of available hard-disk space
USB port
CD-ROM drive