Samsung NX20, NX210 and NX1000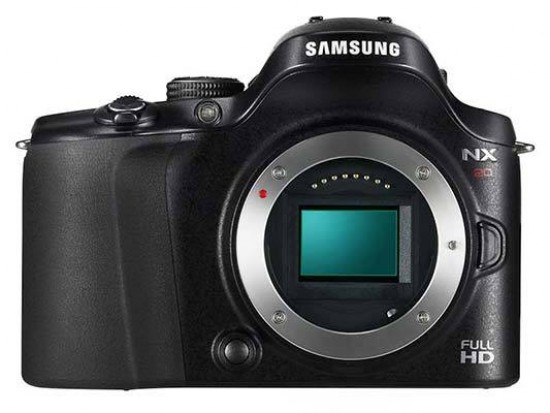 The Samsung NX20, NX210 and NX1000 are the world's first Wi-Fi enabled compact system cameras. All three new models allow users to connect to wireless networks without any additional cards or devices. The NX20, NX210 and NX1000 also feature the same 20.3megapixel APS-C CMOS sensor as the NX200, an ISO range of 100-12800, 8fps continuous shooting, i-Function 2.0 and 1080p Full HD Stereo movie recording.
The DSLR-like NX20 incorporates both an SVGA EVF and a 3.0" Clear AMOLED swivel display, along with a top shutter speed of 1/8000th second, while the NX210 offers a 3.0" VGA AMOLED display. The entry-level NX1000 is highly portable at just over 350g with a lens, battery and memory card fitted and is available in black, white and pink.
The Samsung NX20 is priced at £899 with the new 18-55mm OIS III lens which has a metal mount, the Samsung NX210 at £749 with the same lens, and the Samsung NX1000 costs £599 with the 20-50mm OIS II lens (black and white versions). Also announced is the ED-EM10 zoom microphone which will be released in the second quarter of this year.
Update #1: Read our Samsung NX20 review
Update #2: Read our Samsung NX210 review
Update #3: Read our Samsung NX1000 review
Samsung UK Press Release
SAMSUNG ANNOUNCES THE NEXT GENERATION NX20, NX210 AND NX1000
The world's first Wi-Fi-enabled compact system cameras deliver both quality and connectivity
London, UK,– April 19, – Samsung Electronics Co., Ltd, a global leader in digital media and digital convergence technologies, today unveiled three new additions to its award-winning NX range: the NX20, NX210, and NX1000.
The new models are the first compact system cameras to deliver complete Wi-Fi connectivity, representing the future in CSC technology: SMART devices with in-built Wi-Fi, allowing users to connect to wireless networks without any additional cards or devices. This is complemented by an impressive range of features that continue the heritage of innovation that the NX series has been consistently recognised for, since the launch of the NX10 in 2010. 
Introducing the NX20, NX210 and NX1000
The NX20 and its sister models set a new standard in the definitive image quality that the NX series is known for. Each model boasts a 20.3MP APS-C CMOS sensor, developed in-house by Samsung for outstanding accuracy in colour and reduced noise levels. Combined with a wide range ISO (100-12800), the new models enable the capturing of clean and colour-rich images, even in low-light conditions.
The imaging capability of each model is coupled with high-speed functioning and responsiveness. The speed of the NX20 is a key advantage, boasting a shutter speed of 1/8000 sec to enable clear shots of action-filled settings. With 1080p Full HD Stereo Movie Recording (H.264), the new NX models also guarantee high-quality video alongside DSLR-standard images.
To complete Samsung's 2012 SMART CAMERA ecosystem, these latest additions to the NX range have been designed to satisfy the ambitions of users. Regardless of their photographic abilities, whether an experienced professional or someone looking to trade-up from their point-and-shoot camera.
The NX20 is built for the enthusiastic amateur or for the professional photographer looking for a camera that offers them the quality and control of their DSLR, but in a lightweight and easily portable body. It has been designed with the serious photographer in mind, incorporating an ergonomic hand grip and DSLR-style aesthetic to convey a professional look and feel.
To allow for precision framing and focusing, the NX20 incorporates both an SVGA EVF and a 3.0" Clear AMOLED swivel display, the latter delivering approximately 20% more visibility, giving photographers a host of options when framing their shots.
As standard across the range, the NX20 is also compatible with Samsung's innovative i-Function 2.0 lens system. This enables users to control parameters using the lens itself, adjusting the image without moving from the subject. Samsung's eco-system of professional-quality accessories includes nine bespoke i-Function 2.0 lenses, ranging from pancake to macro, providing pro-standard options for every scenario.
The NX210 builds on the NX's design heritage, with a premium metallic finish. Like its predecessor the NX200, the NX210 also offers a 3.0" VGA AMOLED display for viewing images and Full HD movies in brilliant resolution. With easy access to Wi-Fi functions, the NX210 allows quick sharing with friends and family, whilst with Samsung Mobile Link users can show off their best images on phones and tablets.
Rounding off the range, the NX1000 is highly portable and its eye-catching compact design makes it as useable as it is attractive. Available in stunning White, classic Black and eye-catching Pink the NX1000 houses a feature-rich range of specs, with technology such as Smart Auto 2.0 and the Smart Link Hot Key, making it simpler than ever to shoot and share great images instantly. 
Wi-Fi SMART connectivity
The first CSC range to incorporate Wi-Fi SMART features, the new cameras enable photographers to instantly share and back up both images and video. On all of the new NX models, sharing to social networks such as Facebook directly from the device is simple, as is sending to friends and family via email. Images can also be shared between devices, including the ability to wirelessly share to a Samsung smartphone or tablet using Mobile Link. For viewing on internet-enabled TVs the TV Link function makes it easy to see stunning images on the big screen.
Storage issues are also solved effectively through the use of Wi-Fi, which allows users to clear storage space and back up their pictures for safekeeping through saving to either of two different Cloud services or by using Auto Backup.
The NX series is the only CSC range that ensures images no longer languish in the camera but can be shared effortlessly with the world.
Creative control at the touch of a button
Pictures shared on the spur of the moment are no longer restricted to simply shooting and sending - with the creative features of the new NX cameras, Facebook pictures can be artistic without ever going near a computer. The ten Smart Filters and added Selective Colour function, for example, mean that users can adjust the look and feel of shots as they take them. In addition, all three cameras also feature Panorama and 3D Panorama, allowing the whole story to be told in one complete picture. With the Smart Panel featured on all the new models, settings and features can be easily accessed and applied, making creative photography easier than ever.
Nick White, Head of Digital Imaging, Samsung Electronics UK and Ireland, said "The launch of the SMART NX Range marks an evolution in Samsung's camera offering. With the inclusion of built in Wi-Fi, sharing your pictures has never been so simple and with the NX image quality they will be worth sharing. We are delighted to be offering this innovation in technology to our customers."
About Samsung Electronics Co., Ltd.
Samsung Electronics Co., Ltd. is a global leader in semiconductor, telecommunication, digital media and digital convergence technologies with 2009 consolidated sales of US$116.8 billion. Employing approximately 188,000 people in 185 offices across 65 countries, the company consists of eight independently operated business units: Visual Display, Mobile Communications, Telecommunication Systems, Digital Appliances, IT Solutions, Digital Imaging, Semiconductor and LCD. Recognized as one of the fastest growing global brands, Samsung Electronics is a leading producer of digital TVs, memory chips, mobile phones and TFT-LCDs. For more information, please visit www.samsung.com
Prices:
NX20: £899
NX210: £749 – Available with 18-55mm lens
NX1000: £599 – Available with 20-50mm lens
Image Gallery
Click on a thumbnail to see the full version.
Your Comments