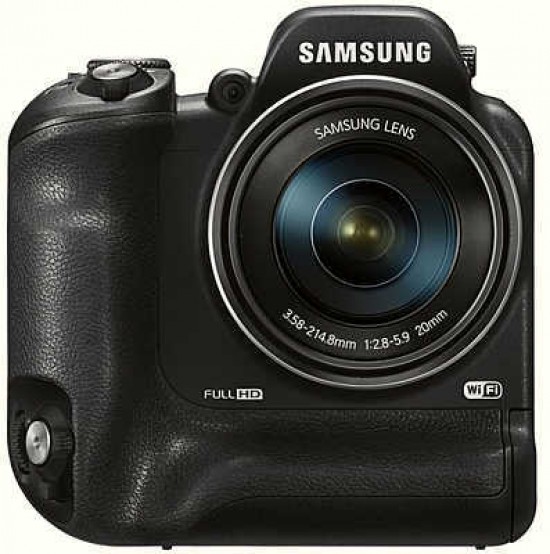 The Samsung WB2200F dual-grip camera offers a 1/2.3-type 16-megapixel CMOS imager and 60x optical zoom. Equipped with a 20-1200mm equivalent f/2.8-5.9 lens, the Samsung WB2200F features integrated Wi-Fi, image stabilisation, Near-Field Communication (NFC), an i-Function control button and an eye-level electronic viewfinder.
Samsung Press Release
Samsung Introduces the Dual Grip, 60x Optical Zoom WB2200F SMART Camera at CES 2014
Premium Super Bridge Long-Zoom SMART Camera Blends Power with Smart Design and SMART Camera 3.0 Technology
LAS VEGAS--(BUSINESS WIRE)--Samsung Electronics Co., Ltd announced the Samsung WB2200F SMART Camera, a Super Bridge Long Zoom camera featuring an incredible 60x Optical Zoom and a unique and comfortable dual grip design. This premium model brings photographers closer to the action and offers powerful optical performance ideal for photographers who value high quality imagery, long battery life and want the ability to share memories instantly.
"For years, super bridge long-zoom cameras have largely been focused on improved optical zoom as a key selling point. In the Samsung WB2200F SMART Camera, Samsung delivers an impressive 60x Optical Zoom lens, but we've also prioritized improved image quality, smarter design and our industry-leading SMART Cameras 3.0 Technology," said Ron Gazzola, Vice President, Marketing for Digital Imaging, Samsung Electronics America. "Specifically, the new comfortable dual grip design on the WB2200F SMART Camera brings a new look and feel to the often ubiquitous super bridge long zoom category."
Smarter Design
With a dual-grip design and solid professional appearance, the WB2200F is comfortable and easy to hold. Its Electronic Viewfinder (EVF) makes photographers' jobs easier and more pleasurable, and the device's unique i-Function control offers advanced elements that facilitate full manual control at the touch of a button. Amateur and expert photographers alike can also benefit from more fully automatic SMART Modes ranging from capturing the beauty of a setting sun with 'Sunset' mode to reliving the excitement of a fast-paced sporting event with 'Action Freeze' mode.
An Improved Imaging Experience
The outstanding 60x Optical Zoom allows photographers to capture more intimate shots and get closer to their subject, ensuring that images taken from afar retain impressive detail and accuracy. With the option to operate the zoom at double speed, or to go directly from zero to 60x zoom, the range of flexible shooting options provide greater image control to help secure the desired shots. With a 20mm Ultra Wide angle lens users can pack even more into the frame to create vibrant images that don't miss a thing. The camera also features a 16MP BSI CMOS sensor, which produces still images alive with color and rich in detail and1080/30p Full HD Movie recording, which can be enjoyed in brilliant detail on the 75.0mm (3.0-inch) hVGA LCD screen that also displays the device's EVF.
Simply Tap to Share Memories
Boasting the latest SMART Camera 3.0 connectivity features, the WB2200F is equipped with NFC and Wi-Fi capabilities so that photographers can share their creations easily and quickly. The brand new 'Tag & Go' feature even goes one step further, seamlessly connecting the WB2200F with smartphones through simply touching the two devices together, no configuration required. This then enables a host of clever features designed to improve both usability and functionality. Photo Beam sends photos being viewed on the camera straight to smartphones, while AutoShare saves images straight to smartphone in real time, removing the burden of manually backing up pictures. With Remote Viewfinder photographers can use their smartphone to control the WB2200F, a great solution for setting up group or individual shots, while Mobile Link allows the transfer of selected images to smartphones to help organize the viewing experience.
Please visit our CES booth to experience this future technology firsthand. Samsung's product line will be displayed from January 7-10 at booth #12004 in the Central Hall of the Las Vegas Convention Center.
Full details, video content and product images are available at the Samsung microsite at http://www.samsungces.com,http://www.samsungmobilepress.com, or mobile site at http://m.samsungces.com, http://m.samsungmobilepress.com as well.
Samsung WB2200F Specifications*
Image Sensor   16.3 effective megapixel 1/2.3" BSI CMOS sensor
Lens   60x Optical Zoom Lens, 20mm Ultra Wide angle, F2.8(W) ~ 5.9(T)
IS   OIS (Optical Image Stabilization)
Display   75.0mm (3.0-inch) hVGA LCD screen
View finder   EVF
ISO   Auto, 80, 100, 200, 400, 800, 1600, 3200, 6400
Image   JPEG format 16M, 14MP, 12M Wide, 10M, 8M, 5M, 3M, 2M Wide, 1M
Video   Full HD Video Recording (1920x1080/ 30fps), 1280×720/ 30fp, 640×480/ 30fps, 240 web
High Speed 176x128/ 360fps, 384x288/ 240fps
Video Output   AV, HDMI 1.4
Value-added Features   Tag & Go (NFC/Wi-Fi) : Photo Beam, AutoShare, Remote View Finder, Mobile Link
  SMART Mode : Beauty Face, Continuous Shot, Landscape, Macro, Panorama,
Action Freeze,Rich tone, Silhouette, Sunset, Low Light Shot, Fireworks, Light Trace
  i-Function Control, Dual Grip, Full Manual Mode
  Long life battery
Wi-Fi Connectivity   Photo Beam, AusoShare, Remote View Finder, Mobile Link
SNS & Cloud, E-mail, Samsung Link,S/W Upgrade Notifier,
Bundle PC software   i-Launcher
Storage   SD (up to 2GB guaranteed), SDHC (up to 32GB guaranteed),
SDXC (up to 64GB guaranteed)
Battery  
BP-1410
Dimension (WxHxD)   119 X 121.8 X 35.5(98.7)mm
Weight   608g (without battery)
*All functionality, features, specifications and other product information provided in this document including, but not limited to, the benefits, design, pricing, components, performance, availability, and capabilities of the product are subject to change without notice or obligation.
Your Comments