SanDisk Awarded European Memory Card of the Year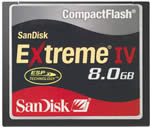 SanDisk Press Release
BERLIN, GERMANY, AUG. 15, 2006 – SanDisk® Corporation (NASDAQ: SNDK) today announced that the European Imaging & Sound Association (EISA), Europe's largest press organization, has named the new SanDisk Extreme® IV line of high-speed CompactFlash® cards as the European Memory Card of the Year 2006-2007. The SanDisk Extreme IV cards are the fastest storage cards in the world and are targeted at photographers who require the highest possible performance and the largest capacities for their medium format and high-end digital single lens reflex (SLR) cameras.
EISA is the largest editorial press organization in Europe, with a membership of 52 audio, mobile electronics, video and photo magazines from 18 European countries. The internationally renowned awards are presented annually in recognition of new products that combine the most advanced technology, performance and value. SanDisk has won an EISA award in 2004 for its SanDisk Ultra® II line and in 2005 for its SanDisk Extreme III line of memory cards.
SanDisk Extreme IV cards are available in 2, 4 and 8-gigabyte (GB)[1] capacities and deliver read and write speeds of 40 megabytes per second (MB/sec.)[2], twice as fast as the SanDisk Extreme III cards. This exceptionally fast card speed is critical when shooting large numbers of high-resolution images or transferring large numbers of images from card to computer. Jorge Goncalves, president of EISA, said, "The SanDisk Extreme IV is the fastest card available at the present time….The card can withstand moisture, dust and shocks, making it the most reliable card for the semi-professional and professional user."
Tanya Chuang, senior product marketing manager for SanDisk's high performance flash memory cards, said, "Once again, we are truly honored to win the prestigious EISA award for the SanDisk Extreme line and to be recognized by such a distinguished panel of imaging experts."
The SanDisk Extreme IV cards are targeted at the professional photographer who needs the absolute highest performance and maximum reliability. The company will continue to offer the SanDisk Extreme III and SanDisk Ultraâ II lines.
SanDisk is the original inventor of flash storage cards and is the world's largest supplier of flash data storage card products, using its patented, high-density flash memory and controller technology. SanDisk is headquartered in Milpitas, CA and has operations worldwide, with more than half its sales outside the U.S.
SanDisk's web site/home page address: http://www.sandisk.com
SanDisk, the SanDisk logo, CompactFlash, SanDisk Extreme and SanDisk Ultra are trademarks of SanDisk Corporation, registered in the U.S. and other countries. Other brand names mentioned herein are for identification purposes only and may be trademarks of their respective holder(s).