Sanyo Chooses InvenSense for Image Stabilization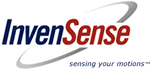 InvenSense Press Release
SANTA CLARA, November 9, 2006—InvenSense, the leading provider of motion sensing solutions for mobile applications, announced that Sanyo Electric Co., Ltd. has selected its single-chip gyroscope for use in its new generation of digital still camera (DSC) models with image stabilization (IS) features. InvenSense's IDG-1000 gyroscope family utilizes MEMS technology to provide the world's only integrated dual-axis solution with the smallest footprint at very competitive prices. As DSCs continue to increase in pixel density and optical zoom range, subtle hand movements become problematic, particularly in low light settings, resulting in poor image quality. Camera manufacturers need high-performance, small form factor gyroscopes to measure and correct natural hand jitter in order to provide high-quality pictures.
Sanyo is a $23 billion manufacturer and distributor of consumer and commercial electronics, and the world's largest manufacturer of DSCs for major DSC makers. Sanyo stated, "Image stabilization is becoming one of the most sought-after features by consumers when purchasing a camera. InvenSense's integrated dual-axis gyroscope is a key enabler of this feature and is already used within our current models. We have also chosen InvenSense to be the supplier of the gyroscope for many of our camera models next year."
The IDG-1000 gyroscope allows DSC manufacturers to develop cameras with higher mega pixel and optical zoom capabilities, without compromising image quality. "Sanyo is one of the largest producers of DSCs and we are honored that Sanyo has chosen InvenSense as a supplier to support image stabilization in their cameras", said Steve Nasiri, InvenSense's President & CEO. "InvenSense's technological advances leverage MEMS technology to provide the small footprint and feature-rich roadmap that DSC manufacturers require." 
About InvenSense
InvenSense is the leading provider of motion sensing solutions for mobile applications. The company's motion sensing technology addresses emerging mass-market applications such as image stabilization, mobile navigation, location-based services and smart user interfaces that use hand motion and gesture-based commands. InvenSense's corporate offices are located in Santa Clara, Calif. More information can be found at www.InvenSense.com.