Sanyo Xacti Digital Movie C5 Announced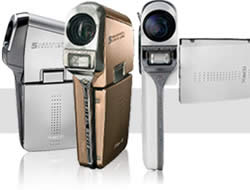 Sanyo Xacti Digital Movie C5 is announced. The Sanyo C5 has 5 megapixels, 2 inch LCD screen and can record MPEG4 format movies with VGA resolution at 30 frames per second. The Sanyo Xacti Digital Movie C5 replaces the Sanyo Xacti C1 that I have previously reviewed. The Xacti C5 will cost 699 Euros and be available at the end of March 2005.
Sanyo Press Release
SANYO XACTI Digital Movie C5: Brilliant Companion for the Technologically Avant-Garde
SANYO's Digital Movie Family has a new member: The XACTI Digital Movie C5 has the same self-confident appearance and sets bold new standards with its unique design. The interior of the youngest member of the C Series is refined and mature as well. The multi-talented C5 combines a dual purpose video and photo camera with the finest technology: a resolution of 5 Megapixels, a 2-inch LCD display (diagonal measurement) - all in an extremely compact and light case. The 23 mm deep aluminum body makes the XACTI Digital Movie C5 one of the slimmest photo-video combinations in the world.
SANYO's new XACTI Digital Movie C5 camera sets bold new trends in fashion and technology with its exceptional design, precision technology and full range of functions. Now you no longer have to decide whether to take a video or a camera to a party or on vacation to capture film or snapshots. The XACTI Digital Movie C5 is both: a full-fledged digital video camera that records films in MPEG4 format with VGA resolution at 30 frames per second as well as an outstanding digital camera with a resolution of 5 million pixels, which the in-camera software can interpolate to 10 Megapixels. And if you can't decide, simply select the Dual Shot function. It activates the video and photo functions so that you can take full resolution, 5-Megapixel photos while shooting video at the same time.
It's brilliant: elegant design and elegant new colors
The design and finishing of the XACTI Digital Movie C5 are as exceptional as the new dual-function device category invented by SANYO and the camera's high-quality technology. The ultra-portable camera weighs just 142 grams; with dimensions of just 67.5 x 108 x 23 mm, it is the world's slimmest photo-video camera. Not only does it fit in a jacket pocket, it makes a trendy companion in any designer handbag. Its ultra—slim form, clear lines and elegant aluminum case in a classy copper, platinum or diamond-white finish make it a stylish accessory. Thanks to its compact form, the XACTI C5 can be easily operated with just one hand.
It's flexible: extra-large display for perfect viewing
The LCD display is also striking: the 2" screen (diagonal measurement) can be folded out and swiveled up to 293 degrees. It serves as a viewfinder, control monitor, user interface and power switch. As soon as the screen is shut the camera immediately goes into standby mode; open the screen and the camera is ready to shoot again in just 1.7 seconds. Now you will never miss an unexpected photo opportunity again! The display reproduces images clearly even in bright lighting. This is made possible by a special reflective coating on the back of the display that uses incident light to provide background illumination.
It's sharp: Proven optics and modern image stabilizer
The 5x optical zoom with a maximum focal length of 31.7 mm (equivalent to 190 mm on a 35mm camera) means that photographers will always be close to the action with the XACTI Digital Movie C5. The 12x digital zoom brings even distant scenes in close. Because even minor hand movements can blur images when using long focal lengths, the XACTI C5 has an integrated image stabilizer. It eliminates even the slightest movements and vibrations to ensure that sharp images are no longer left to chance with telephoto settings.

A practical 5-point auto-focus system aids focusing. This system takes the composition of an image into account and allows photographers to focus on a particular object even if it is not located in the center of the image. Alternatively, users can use the 15-step manual focus.
It's fun: image chat
The XACTI Digital Movie C5 delivers the goods at home or at work as well. When connected to a PC, this all-round camera doubles as an easy-to-use webcam. In PC Camera Mode it is ideal for Internet video conferences or personal chat sessions with direct visual contact. The user-friendly docking station, included with the camera, makes connecting the C5 to a PC a snap. It simplifies slideshows on a PC screen and downloading image files. The docking station recharges the XACTI C5's Lithium-ion battery as at the same time as well.
With the AV connector or S-Video output on the docking station, you can connect this multi-talented camera to a television to view videos on the SD storage card. Of course the C5 delivers crisp, clear sound for true viewing enjoyment. The integrated microphone records two-channel stereo sound in the MPEG-4 audio format at 16 bits/48 kHz. The camera automatically filters out any annoying zoom or wind noise. The microphone also allows you to use the XACTI C5 as a dictation machine.
Key Features of the XACTI C5 at a Glance:
• Digital Video Capture in MPEG4 Format (VGA 640x480 at 30 Frames per Second)
• 5.1 Megapixel (effective) for digital photos, 10 Megapixel interpolated
• 5x optical zoom
• 12x digital zoom
• 16 bit/48 kHz audio quality, two-channel stereo sound, MPEG-4 audio format
• Integrated image stabilizer
• Dual Shot function allows 5 Megapixel still picture captures during video recording
• Webcam function for Internet image transfers or online video/image conferences as well as chats in MSN or NetMeeting
• Lithium-ion rechargeable for 60 minutes of continuous recording
• Storage medium: SD card
• Docking station
Supplied Accessories:
• Lithium-ion rechargeable battery
• Docking station with power adapter
• USB, S-Video and AV cable
• SD card 128 MB
• Protective case
• Lens cap
• Carrying strap
• Sanyo Utility Software (Ulead Photo Explorer 8.0 SE, Ulead DVD Movie Factory 3.5SE, Motion Director SE 1.1 & Panorama Function, QuickTime 6.5)
• Remote Control
XACTI C5 Specifications:
• 5x optical zoom (f = 6.3 – 31.7 mm, 38 - 190 mm equivalent on a 35 mm camera), F = 3.5 (wide-angle) – 4.7 (telephoto)
• 12x digital zoom
• Super Macro Mode with minimum focusing distance of 1 cm
• 1/2.5", 5.26 Megapixel CCD
• Still Image Resolution:
10M: 3680 x 2760 (Real-Time Interpolation)
  5M: 2592 x 1944
  2M: 1600 x 1200
0.3M: 640 x 480
• Video Resolution:
TV SHQ: 640 x 480, 30 fps, 3 Mbps
TV HQ: 640 x 480, 30 fps, 2 Mbps
TV S: 320 x 240, 30 fps, 640 Mbps
WEB HQ: 320 x 240, 30fps, 384 kbps
WEB S: 176 x 144, 30 fps, 256 Mbps
• Focus: Auto focus 10 cm to infinity / Super Macro (1 cm) / 1 m focus / 2.5 m focus / background
• 15 step manual focusing
• Intelligent Exposure Meter: matrix, center-weighted and spot metering
• Built-in flash (automatic, forced on and off)
• Program Modes: Sport, Portrait, Landscape, Night, Fireworks, Artificial Light
• Filters: Cosmetic, Black & White, Sepia
• Battery Performance: Up to 60 minutes of video recording or 130 digital photos
• Interface: USB 2.0, PictBridge
• Self Timer: 2 modes (2 seconds/ 10 seconds)
• White balance: Full Auto or 4 additional user-selectable modes
• Automatic ISO (50-200) photos, (200-400)-videos, Manual: ISO 50/100/200/400/800 photos, 200/400/800/ videos
• Audio Recording: 48 KHz, 16-bit two-channel stereo
• Tripod socket
• Dictation function
• Weight: 142g (without Batteries)
• Dimensions: 67.5 x 108 x 23mm
RRP: 699 Euros
Availability: End of March 2005
Date 01/05. Technical specifications subject to change without notice.