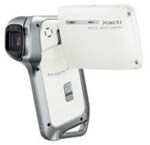 The Sanyo Xacti DMX-CA8 is a new waterproof hybrid digital camera/camcorder. Featuring JIS IPX5 and IPX8 waterproof ratings, the DMX-CA8 can be used underwater to a depth of 1.5-meters for 60 minutes or less. The Sanyo DMX-CA8 has an 8 megapixel CCD sensor, 5x zoom lens, and 2.5 inch LCD screen. On the video side, the DMX-CA8 can shoot 680×480 movies at 60fps, with 75 minutes or 200 still images promised from the lithium-ion battery. Currently only announced in Japan, the Sanyo Xacti DMX-CA8 will cost around around 50,000 yen / $500 / £250.
Sanyo Japan Press Release
SANYO Adds New Active Lifestyle Xacti Digital Movie Camera to Line-up
Perfect in the city, at the ocean, or in the mountains – One unit does movies and photos!

Tokyo, April 18, 2008 – SANYO Electric Co., Ltd. (SANYO) announces its next Xacti digital movie camera designed for people with active lifestyles – the DMX-CA8. The new digital movie camera is not only waterproof*1, fully compatible with most active lifestyles, but also added are higher resolution photographs up to 8-megapixels and a new 'Face Chaser' function for movies in addition to the existing 'Face Chaser' function for photos. The Xacti DMX-CA8 will be on sale in Japan from mid-May 2008.
In his presentation at the launch, Hideki Toyoda, General Manager of the SANYO's DI Company Products Planning Department, said, "Last year, SANYO brought a digital movie camera to the market that was waterproof and changed the way that people use digital movie cameras. This year, we are pleased to introduce the next in the line-up, a continuation of both the waterproof and film anywhere concept, freeing people to choose where to use their camera instead of allowing the use or place to choose the camera for them. Anyone with an active lifestyle, including sports enthusiasts, outdoorsmen, or mothers will surely enjoy this camera."
Main Features
1. Digital Movie Camera fully compatible with active lifestyles, even in the water!*1
- JIS IPX5/IPX8 qualified for water resistance
- Designed to withstand snow-related water, rain, water spray, splash, and even submersion*1
- Use in summer sports like snorkeling, winter sports*2 like skiing/snowboarding or everyday scenes
- New underwater scene mode available in scene selection menu, making the colors more true and clear
2. Smooth movies and beautiful pictures with one single camera
- MPEG-4 AVC/H.264 high compression with quality
- Smooth movie recording and playback with 60 fps*3
- Web-mode for simple sharing, no conversion necessary to upload
- CMOS sensor allows high resolution 8.0-Megapixel still images and faster frame rates for movies
- 5X Optical zoom lens for beautiful close-ups
- Sequential photo setting takes up to 10*4 photos with a shutter speed of 5 frames per second (fps)
- Take still images simultaneously*5 while making movies, stopping or pausing movie is unnecessary
- Separate buttons for photos and movies without annoying mode switching
3. New 'Face Chaser' function for movies in addition to 'Face Chaser' function for still images
- Able to chase up to 6 faces during movie filming
- Automatic exposure and focus adjustment allowing for easier operation
- 'Face Chaser' for still images tracks up to 12 faces
- New function allows for clear faces for easy identification on playback
4. Other Features
- 'Digital Image Stabilizer'*6 senses camera revolution and photographic subject movement
- Connect and cut movies directly from the camera with editing function*7
- Bundled with 'Adobe Premiere Elements 4.0' for movie editing and original DVD authoring
- Option special floating strap available
- 'Talking Navigation' function informs of camera status and warning (for low battery, etc.)
- 'Wind Noise Reduction' function reduces unwanted wind noise when recording movies
- Compatible with PictBridge, allowing pictures to be printed without a computer
- Pixel-interpolation technology allows still photos up to 12-Megapixels*8
*1 JIS IPX5, IPX8 standard. (Up to 1.5 meters deep for up to 60 minutes)
*2 When using in cold or hot and humid environments use caution to prevent fogging and condensation caused by rapid temperature changes
*3 In TV-HR mode
*4 In 2M consecutive shooting mode
*5 Still images recorded as 2-megapixel images
*6 Images may not be adjusted in the case of slow shutter speed or high level of image blurring
*7 Depending on amount of available SD memory card memory, some editing functions may not be allowed
*8 Convert 8.0-megapixel data captured by the image sensor to the recorded equivalent of 12-megapixel
The 'Xacti' series is based on creating an ergonomic solution allowing a comfortable, natural filming style for photography and movie enthusiasts. Xacti series cameras have received high acclaim from the market for its capability to easily take both movies and photos in a compact body, and for adopting a movie format that is highly compatible with the Internet environment.
Since the introduction of SANYO's digital cameras which adopted movie-recording capabilities in 1998, SANYO has focused on creating hybrid cameras that can both record movies and photos in one simple unit, freeing camera users from having to carry two separate units and allowing photos and/or movies to be recorded anytime and anywhere. Last year, SANYO announced the world's first*9 waterproof digital movie camera model, the DMX-CA65, in response to consumer demand*10, a camera capable of recording both movies and still images underwater. Through this new style of camera, ways to use digital cameras have been expanding.
The new DMX-CA8 sports new active colors designed to represent those on the go, and has solved the problem of choosing which camera to take, as it can both take still images and movies in almost any type of weather.
*9   For optical zoom lens video cameras
*10 According to company studies

Your Comments