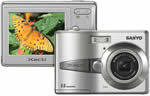 Sanyo Press Release
Sanyo Debuts Compact, Affordable Xacti S60 6-Megapixel Digital Camera With Touch Sensor Shutter and New Ergonomic Styling
CHATSWORTH, Calif., May 24—The SANYO Xacti S60 is a high performance, yet exceptionally easy to use, 6-megapixel digital still camera. Featuring a 3x optical zoom lens and an extra-large 2.5 inch TFT LCD monitor, the palm-sized Sanyo S60 offers an ergonomic, easy to hold design to help users capture beautifully detailed images every time. The Sanyo S60 incorporates a newly developed high-resolution 6.18-megapixel CCD (total) designed to capture vibrant, razor-sharp color images. Simply touch SANYO's unique Touch Sensor Shutter Button and both Auto Focus and Auto Exposure are instantly confirmed with a luminous touch signal and beep. Then, a gentle press of the shutter button captures the image.
The camera's 9-point Auto Focus lets the user focus on subjects outside of the typical center of the picture. These focus points are spread out within the image area to automatically detect the key subject. The user can alternatively select a central AF point on the LCD display to choose a preferred subject. A 35-105mm focal length (35mm format equivalent) delivers the clarity and sharpness needed for brilliant photographs. For extreme close-ups, a Super Macro mode captures images in vivid high-resolution as close as 5 cm.
2.5-inch LCD monitor
Captured images are easily viewed on the camera's extra-large 2.5 inch LCD display. The S60 features an easy-to-use menu system and user-friendly ergonomics that will please entry-level digital photographers as well as more experienced users.
Sequential Shooting, Scene Select, Digital Filter
The S60's Sequential Shooting function lets you take a burst of four shots in a row (2.5 frames-per-second), making it easy to capture fast-moving action. Scene Select offers a range of settings to suit most any shooting situation, and the Digital Filter function helps create more expressive and atmospheric shots.
Video clips
Video clips can be captured as easily as still images with the S60. In Video mode, the SANYO camera can capture 30fps video at a resolution of 640 x 480 (VGA) pixels. High sensitivity settings in Video mode (Auto: 200 - 800, manual: ISO 200/400/800/1600) ensure that even small details are visible under difficult lighting conditions.
Voice Recording
A useful new feature is the camera's Voice Recording function, allowing users to add comments to captured images. This feature makes it easy to classify and archive images in the future.
Battery
For unmatched convenience and quick power renewal, the SANYO Xacti S60 runs on 2 conventional AA alkaline batteries, available worldwide. Two fully charged batteries give enough power to let the Sanyo Xacti S60 capture up to 240 images. The S60 can alternatively be powered by 2 AA NiMH rechargeable batteries.
Pricing and availability
Featuring sporty elegance and a stylish chrome design, the SANYO Xacti S60 digital compact camera will be available in the U.S. by the end of May 2006 and will have an MSRP of $199.99*.
Key features of the SANYO Xacti VPC-S60:
  *  6 Megapixel still images
  *  3x optical zoom (35 - 105 mm)
  *  2.5 inch LCD monitor
  *  Touch Sensor for fast focusing
  *  9-point auto focus system
  *  Super Macro Mode with minimum focusing distance of 1.97 in
  *  Ergonomically designed housing
  *  Recording Modes: Still image, sequential shot
  *  Filters: Standard, Black & White, Cosmetic, Sepia, Sharpness,
    Saturation
  *  Subject Functions: Sports, Portrait, Landscape, Night Exposure,
    Fireworks, Flora, Photo with sound background
  *  Digital video recordings in 640 x 480 (VGA) or 320 x 240 pixel format
    with 15 or 30 frames per second, with sound in WAV (mono/8bit 8k
    sampling)
  *  White Balance: Automatic or 5 presets
  *  Self-timer: 2 or 10 seconds
  *  Camera works with conventional 1.5 Volt batteries (AA)
  *  Storage Medium: 21.9 MB internal memory and slot for SD memory card**
  *  Dimensions: 3.5 x 2.4 x 0.8 inches (projections and grip not included)
  *  Weight: 4.2 oz (excluding SD card and batteries)
About SANYO
SANYO Electric Co., Ltd. (NASDAQ:SANYY) is a $23 billion manufacturer and distributor of consumer and commercial electronics, including multimedia and telecommunication products. Based in Chatsworth, California, SANYO Fisher Company (a division of SANYO North America Corporation, a subsidiary of SANYO Electric Co., Ltd.) markets digital cameras, PCS phones, audio systems, portable and mobile electronics, televisions, DVD players, dictation devices, home appliances, LCD projectors, security video equipment and air conditioning systems.