Schneider Introduces B+W Digital Filter Software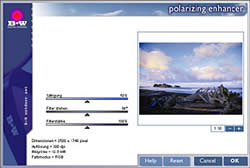 Scheider Press Release 21/10/04
Powerful, affordable, easy-to-use "plug ins" are compatible with all popular image processing programs
Hauppauge, NY, October 21,2004 - Schneider Optics, in conjunction with its parent company, Jos. Schneider Optische Werke GmbH, known for manufacturing high performance lenses and filters, has introduced a new line of digital filter software that enables any PC or MAC computer user to easily and quickly apply special retouching and effects to any digital image.
Available in two different sets: (1) Portrait and Family, and (2) Outdoor, these B+W software sets each provide six selectable effects that can be selected by a single click of a mouse, be instantly adjusted, and applied to an image by a second mouse click. As a result, retouching effects that previously took minutes or hours, and could only be accomplished by highly trained, experienced operators using leading photo-manipulating software, can now be achieved easily by anyone, virtually instantly.
The new B+W filter software can apply professional-quality effects to photos from any source, including digital cameras, "camera" cell phones, camcorders, scanners and the Internet.
Special effects available from the Schneider B+W Portrait and Family Set include:
Black and White (cool)
Enhance Colors
Luna
Soft Focus
Summertime
Warming.
Special effects available from the Schneider B+W Outdoor Set include:
Brighten
Graduated Blue
Graduated Neutral Density
Polarizing Enhancer
Summertime
Warming.
Readily installed on any computer having compatible imaging software such as Adobe Photoshop, Photoshop Element, Corel Photo Paint, and others, Schneider B+W Filter Sets link themselves to existing programs, (without affecting the operation of their host), and then appear on the pull-down windows that list filter choices.
According to New York graphic artist and export digital photo retoucher Debbie Albin, "The B+W Filter Sets enable me to automatically accomplish in two minutes some of the effects that previously took me two hours using Photoshop alone. For me, this translates into not only better images, but into more income. Using these software filters is a no-brainer for a pro when time is money, yet they are easy enough for any amateur to use effectively."
A demonstration of the effects available with both B+W Filter Software sets can be viewed at http://www.schneideroptics.com/software/b+w_software_filters.
In the United States, the Schneider B+W Portrait and Family Set and Outdoor Set each have a MSRP of $65, and are expected to be available soon at camera stores and mass merchandisers.
About Schneider:
Schneider Optics is a leading manufacturer and distributor of photographic equipment. It provides the world's highest quality photographic optics, including the world-renowned Schneider filters for motion picture and television production, B+W filters, lenses and accessories, and the full line of Horseman products.