SeaLife DC500 Underwater Digital Camera Announced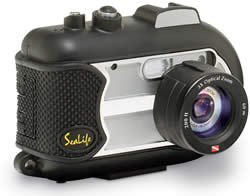 SeaLife DC500 underwater digital camera is announced today. The SeaLife DC500 has 5.5 megapixels, a 3x optical zoom lens and 2 inch LCD screen and retails for £349.99.
SeaLife Press Release
New DC500 Underwater Digital Camera, Made for Divers by Divers
Sealife Pioneer Research, the exclusive manufacturer and marketer of SeaLife underwater photographic equipment, introduces the new and long awaited DC500, 5.5mp digital camera with 3x optical zoom to its range of underwater photography products and accessories.
Robust Housing
Underwater photography has never been so easy. The DC500 comes fully equipped with a non-slip, rubber armoured housing with advanced button operations, allowing you more control and ease of handling underwater.
The DC500 is also complete with a 2.0" colour LTPS Screen, which makes viewing and deleting your images underwater even more easy to do. Giving you the advantage to explore the true beauty the coral and fish have to offer.
Supplying Power on Demand
The DC500 Underwater Digital Camera is an exceptional addition to Sealife. As it boasts power, with techincal excellence. With the DC500 you have no excuse of missing a great shot ever again.
The DC500 is all combined Land and Sea water sport dive camera, which gives you more control and power in any situation.
Features:
* 12x Zoom (3 x Optical / 4 x Digital)
* 2.0" Colour LTPS Screen
* Quickshot Mode with No Shutter Delay
* 30 frames per second. MPEG 4 video mode with sound
* USB 2.0
* Pictbridge
* 16mb built in memory (SD Card Compatible)
* Lithium Rechargeable Battery
Pricing
SL150 DC500 £349.99
SL155 DC500 Pro Kit £449.99
SL158 DC500 Elite Kit £599.99
SL159 DC500 Maxx Kit £999.99