Seim Studios Release PhotoGraphics Miniseries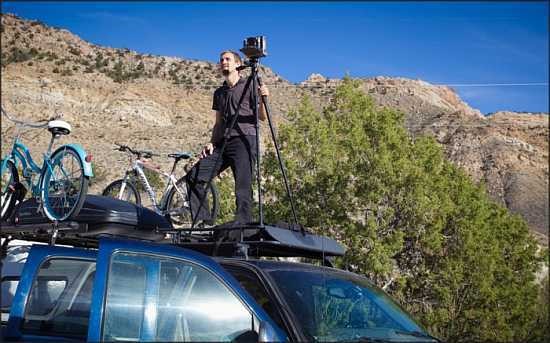 Seim Studios have just released their new photo workshop series focused on the history and art of photography. The miniseries follows in the footsteps of the acclaimed EXposed series produced in 2012. PhotoGraphics uses a historical perspective to guide viewers through many of the artistic and mechanical decisions that are needed to separate good pictures from great photographs, despite the challenges presented by variables like light, weather, color and composition. At approximately 3.5 hours, the series is now available at discounted pricing through 30 April 2014 as an immediate download for $59 and as a Blu-Ray / DVD combo for $79.
Website: PhotographicsFilm.com
Seim Press Release
PHOTOGRAHICS - Official Trailer from Gavin Seim - Opera Chicken Films on Vimeo.
Seim Effects Releases PHOTOGRAPHICS Miniseries as Download, DVD and Blu-Ray

Award winning Seim Studios has released their new photo workshop series focused on the Light, History and Art of photography; cinematic workshop spans a year and over10,000-miles across America

Soap Lake, WA (April 24, 2014) - Seim Effects announced today that PHOTOGRAPHICS, a photography miniseries produced by award-winning photographer, pictorialist and portraitist Gavin Seim is now available. At approximately 3.5 hours, the series began as a successful Kickstarter campaign in 2013, exceeding its fundraising goals. Now PHOTOGRAPHICS is available at discounted pricing through May 30, 2014 as an immediate download for $59 and as a Blu-Ray /DVD combo for $79.

The series follows in the footsteps of the acclaimed EXposed series produced in 2012. PHOTOGRAPHICS studies the harder to define aspects of image making such as composition, space and line combined with a study of photographic history. The production required months on the road and visits to stunning locations as the series studies real world situations that can apply to any genre of image making using classical art techniques that have worked for centuries.

PHOTOGRAPHICS also brings in guests along the way, like acclaimed portraitist Ken Whitmire and Master Wilderness Photographer Rodney Lough The ultimate focus of the journey is to ask and answer the question. What makes a great photograph?

"In many ways the PHOTOGRAPHICS is like an apprenticeship," said Gavin Seim, photographer, educator and owner of Seim Effects. "Except here, viewers can re-watch and continue to learn, time and again. PHOTOGRAPHICS uses an historical perspective to guide viewers through many of the artistic and mechanical decisions that are needed to separate good pictures from great photographs, despite the challenges presented by variables like light, weather, color and composition. The discounted pricing thru May helps to make the PHOTOGRAPHICS workshop a perfect Father's Day, Mother's Day or Graduation gift for the serious photographer on anyone's list."

The series is available now at http://photographicsfilm.com where the trailer can be viewed. Some key points in the series include:

· Photography's Amazing History
· The Depths of Composition
· Where Science Meets Art
· The Composition Color
· The Motion of Light
· Space, Position, Line and Tone
· What Makes a Great Image?

About Seim Effects
Gavin Seim, owner and lead developer of Seim Effects, is an internationally recognized photographer and educator known for his experience with time tested techniques, creative workflow and the digital darkroom. Gavin has a passion for creating powerful software tools and educating photographers of all skill levels to be more efficient, creative and profitable. The Seim Effects line of tools and education features the acclaimed Power Workflow 4 for LR. Hollywood Effects 2 and Naked Elements Textures for Photoshop. LightFlow and ColorFlow, powerful Aperture Presets collections. EXposed, a workshop about understanding better and photographing light and other quality products.

For more information on Seim Effects Tools and Education visit: http://seimeffects.com
Your Comments