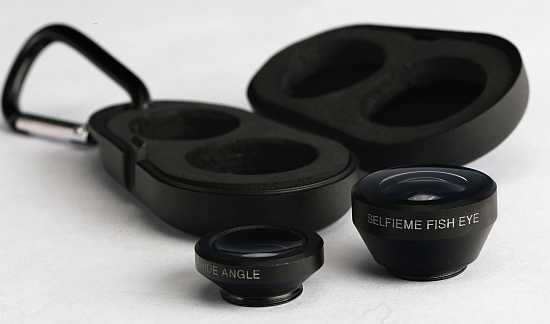 Today marks the official Kickstarter launch of SelfieMe, a unique lfestyle brand and phone photo accessory company that is looking to "revolutionarise the way users share and express memories." Consisting of wide angle and fish eye lenses machined from aircraft-grade aluminium, an ergonomic raised shutter button, and a shock absorbent lens carrying case; SelfieMe is billed as the most proficient and lightweight lens system available for smart phones. "As photography enthusiasts, we found that most lens enhancements for our phones didn't match our active lifestyles" said founder/co-creator Jonas Johansson. "In testing other lenses, we found they were too bulky, not easy to use, and at risk for damage, coming with lackluster cases -- that just didn't work for us. We set out to create a better option for consumers and SelfieMe was born."
Website: Kickstarter
Selfieme Press Release

Introducing SELFIEME:

The New Age of Phone Photo Accessories Brand Launches Official Kickstarter Campaign

June 18, 2014, LOS ANGELES – Today marks the official Kickstarter launch of SELFIEME, a unique lifestyle brand and phone photo accessory company that is looking to revolutionize the way users share and express memories. Through its campaign, the brand is hoping to raise $20,000 in capital to assist in the development and manufacturing of SELFIEME products.
Designed to unlock the full potential of your phone's camera, SELFIEME allows users to take high quality, wide-angle pictures anywhere, anytime. SELFIEME's thoughtful design and precise manufacturing is delivered through a compact, powerful, durable lens system, accessible for the everyday user
.
"As photography enthusiasts, we found that most lens enhancements for our phones didn't match our active lifestyles" said founder/co-creator Jonas Johansson. "In testing other lenses, we found they were too bulky, not easy to use, and at risk for damage, coming with lackluster cases -- that just didn't work for us. We set out to create a better option for consumers and SELFIEME was born."

SELFIEME is the solution to magnetic lenses that fly off, slide-on lenses that get lost or crack your phone if dropped, and the large accessory bags and cases that current products come with. SELFIEME is the most proficient and lightweight lens system available, featuring wide angle and fish eye lenses machined from aircraft grade aluminum, an ergonomic raised shutter button, and a shock absorbent lens carrying case that users can clip to keys, purses, and more. Best of all, SELFIEME does not interfere with phone functionality.

"In creating SELFIEME, we wanted to expand the landscape of mobile photography and provide consumers with the opportunity to take the perfect picture, every time no matter the shot – a landscape, an action shot or, yes, even a selfie," said Co-Founder Theo Doussineau With over 100 million "#selfie" posts on Instagram, the vision of SELFIEME is to equip selfie lovers everywhere with an all-encompassing product that helps to share memories, passion, and love.
Your Comments