Sigma 10-20mm Lens @ PMA 2005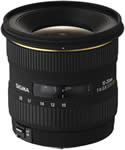 The Sigma 10-20mm F4-5.6 EX DC HSM lens which was first announced a week ago is on show here at PMA 2005. I got the chance to have a brief try of the lens on my Canon EOS 10D during an interview with Sigma today.
In the usual Sigma EX tradition, the 10-20mm lens was very well made (despite only being a pre-production model) and it felt compact and well balanced on the 10D with battery grip fitted. Despite the dim lighting on the show floor and a slowish aperture of F4-5.6, the Sigma 10-20mm had no problems with focusing.
I'm not able to provide the full-sized samples, but here are some shots to show you the angle of view that digital SLR users will be able to get. On my 10D, the first shot is equivalent to 16mm and the second to 32mm wide.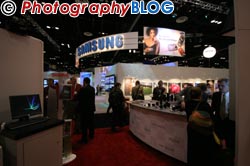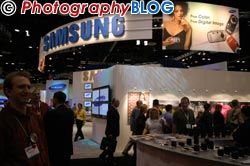 With the Tamron 11-22mm lens also now shipping, digital SLR users with APS sized sensors finally have more choice in the wide-angle lens category.