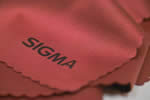 Sigma UK Press Release
Sigma Imaging (UK) Ltd is pleased to announce the launch of the new Sigma Micro Fibre Lens Cleaning Cloth. This cleaning cloth has been optimised for use with both digital and analogue lenses making it the perfect accessory for film and digital SLR owners. The advanced structural qualities of this cloth make it suitable for both left and right-handed people. New Low Energy (LE) system utilises the power of kinetic energy, so when your DSLR batteries are running low, the cleaning cloth will keep going and going!
• Unique triangle knitting structure, eliminates dust, finger-prints and oil.
• Excellent water absorbing power and cleaning effect.
• Optimised for both film and digital lenses.
• Incorporates new Low Energy (LE) technology.
In addition to cameras and lenses, the cleaning cloth is suited for use with spectacles, CDs and DVDs, Jewelry, optical instruments and computer screens. This cloth also makes for a handy back-up if you run out of tissues.
This cloth is also branded with the SIGMA logo in the bottom right hand corner making this a real collector's item. With a breath-taking SRP of just £5.99 demand is expected to be high.
Optional Accessories:
Sigma photographic lenses.
Available fittings:
Fully compatible with all popular analogue and digital lenses.
- Vignetting may occur if the lens cleaning cloth is used whilst taking a photograph.
- The appearance, technical specifications and construction of the product are subject to change without notice.