Sigma to Develop L-Mount Camera with Foveon Sensor, Release Canon EF to L-mount Adapter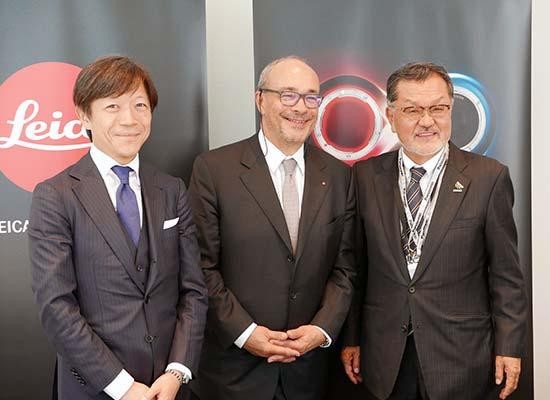 The Chief Executive Officer of Sigma, Kazuto Yamaki, has confirmed that the company will be releasing their own L-mount camera in the near future (2019).
In a behind-closed-doors meeting here at Photokina, Sigma told Photography Blog that the camera will will be a full-frame model, rather than APS-C.
Sigma re-affirmed their commitment to the Foveon image sensor, commenting that they will continue to improve its performance, although they would be open to using another sensor type if it was significantly better than Foveon.
Sigma will be releasing their own L-mount lenses in 2019, starting with the 14 current mirrorless lenses that they offer, plus some more as yet unspecified models. They didn't reveal which lenses would be released first.
Sigma also revealed that they will be releasing two new adapters for the L-mount system in 2019 - an EF to L adapter and a SL to L adapter - which means that you will be able to use any Canon or Sigma DSLR lens on the Leica SL or Panasonic S1/S1R bodies.
Finally, Sigma have no more plans to develop cameras using the SA mount, with the SD Quattro and SD Quattro H from 2016 becoming the last ever cameras to use the standard. Instead Sigma have decided to focus fully on developing cameras that use the L-mount.
Sigma Information Notice
To our customers using SIGMA SA-mount cameras and lenses
Dear SIGMA customers,
Thank you very much for your trust in and support of our products.
At Photokina 2018 (Cologne, Germany), we have officially announced the beginning of our collaboration with Leica Camera AG and Panasonic Corporation to adopt the L-mount for future SIGMA products. Following this announcement, we would like provide an outline regarding our plans for future interchangeable-lens cameras and lenses to all customers familiar with SIGMA's SA-mount system.
SIGMA starts development of a full-frame mirrorless camera as part of its switch to the L-mount system.
For the development of a new and long-requested full-frame mirrorless camera, the adoption of an optimal, new lens mount system became a necessary step in order to achieve new standards in usability and performance. While we did consider developing a new mount system in the beginning, the results of technical surveys and investigations led us to the conclusion that Leica Camera AG's L-mount offers an ideal solution in terms of our short flange back distance and optical design requirements. With our partnership with Leica Camera AG and Panasonic Corporation, we hope to offer a camera system with much greater scalability than possible as a independent manufacturer. All future interchangeable-lens camera systems developed by SIGMA will feature the L-mount. SIGMA does not plan to develop new cameras equipped with an SA-mount.
SIGMA will continue producing SA-mount lenses.
We plan to continue developing, manufacturing and selling interchangeable lenses – including lenses already available on the market and future products – with the SA-mount, as part of our standard product lineup.
SIGMA is developing a special lens adapter to use SA-mount lenses on L-mount systems.
Parallel to the development of L-mount equipped cameras, we are developing a lens adapter which allows our customers to use their SA-mount lenses on L-mount cameras. We understand the importance of a product environment in which all of our customers are able to use their valuable lens assets without any cutbacks, and we plan to provide the mount adapter together with the release of our new L-mount camera.
We have always understood camera development as an enterprise which requires our passion and embodies the ideals and principles of our company. In this respect, our employees' hard work is motivated by the strong conviction that this project cannot be realized without the understanding and trust of all our customers who have come to enjoy our cameras and lenses equipped with the SA-mount. On this occasion, I would like to extend my personal heartfelt gratitude for your continued support.
At present, the digital camera world is embracing an unprecedented period of change. On occasion of our company's full-scale entry into developing mirrorless cameras, we also have to think sincerely about the question, "What camera system does the future require?" Based on our careful investigations, we decided that the adoption of a new lens mount system is a necessary part of the answer.
We understand that in the face of this announcement our customers may be concerned about future product developments and the practicability of SIGMA products they already own. SIGMA treats our continued support for SA-mount lenses as a top priority. This commitment of ours will not be affected by our move to a new mount system, and SA-mount lenses will continue to be part of our production. Please be assured that we are creating the next generation of our cameras with all of our customers in mind.
We want each of our customers, who came to love SIGMA products as part of a "SIGMA mount system," to continue using our products without any compromise, and we promise to provide you with an even greater variety of options to enjoy your gear in the future.
Thank you very much for your generous patronage and support.
Kazuto Yamaki Company Executive Officer, SIGMA Corporation
Your Comments