SJCAM ​SJ9 Strike and SJ9 Max Action Cameras Price, Specs and Availability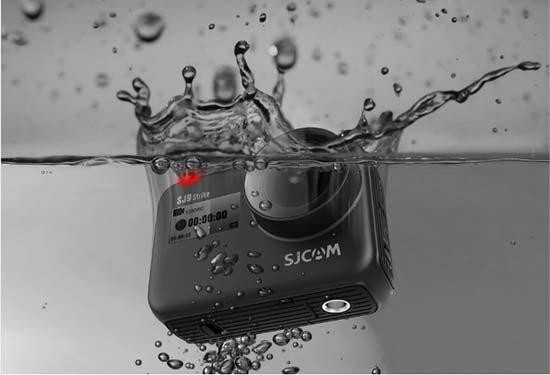 The SJCAM SJ9 Series of new waterproof cameras are the first action cameras on the market to feature wireless charging. Consisting of 2 models – the SJ9 Strike and SJ9 Max, both cameras feature a 2.33" touch screen display and 1300mAH battery.
The new SJCAM SJ9 Strike and SJ9 Max are available for pre order now. Approximate pricing will be £209 for the SJ9 Strike and £159 for the SJ9 Max.
SJCAM Press Release
SJCAM, the action camera manufacturer who eased its way in to the market with the release of the SJ4000, is pleased to announce the launch of its new SJ9 Series. Consisting of 2 models – the SJ9 Strike and SJ9 Max, both the new cameras feature some impressive specifications.
The most powerful SJCAM cameras to date, the SJ9 Strike and SJ9 Max are the perfect companions to any adventures you have planned – both above and below water. With a 2.33" touch screen display and 1300mAH battery on both models, the new cameras also introduce the below features:
Waterproof
Leave the waterproof case behind – the new SJ9 models are both waterproof up to 5m deep without any housing. The sleek new design and waterproofing make both cameras perfect for any underwater adventures.
Supersmooth Gyro Stabilization
Capture every moment in crisp, clear detail thanks to the supersmooth gyro stabilization. Make shaky images a thing of the past – both the SJ9 Strike and SJ9 Max give you the capability to make vibrant, sharp videos. The SJ9 Strike boasts a six-axis Gyroscope, whilst the SJ9 Max includes a three-axis Gyroscope.
Livestream
Show adventures as they happen with the new Live Stream feature. Simply use the SJCAM app to select streaming with either Facebook or YouTube, choose the WiFi network and start streaming!
Wireless Charging
Charging your camera becomes a breeze with the new SJ9 Strike and SJ9 Max. Say goodbye to cables and hello to simple, hassle free charging!
Impressive specifications
The SJ9 Strike model also features the best components from previous SJCAM models. The super powerful Amabarella H22S85 chipset and the Sony_IMX377 image sensor means it can record 4K at 60fps and even 240fps at 1080p. These high specifications also mean the timelapse can be used with intervals up to 30 minutes, slow up footage of up 8x, digital zoom and much more.
Let your passion for adventure guide you – the new SJ9 are ready to go wherever you choose!
Pricing and Availability
The new SJ9 Max and SJ9 Strike are available for pre order now. Approximate pricing will be:
:: SJ9 Strike - RRP £209
:: SJ9 Max - RRP £159
For more information and to pre order visit https://sjcam.com/product/sj9/
About SJCAM
Founded in 2011, SJCAM has gained worldwide recognition following the release of their SJ4000 with its simplicity and rock-solid performance at a very competitive price. The company now focuses on producing advanced camera products, while providing excellent customer support, SJCAM's commitment to excellence has made brought them to advance their technology to innovative changes into their SJ8 Series range including dual microphones, 6-axis gyro stabilization, 8x digital zoom and a 2.33 inch In-Plane Switching (IPS) display, shows their persistence on creating top-notch products that fit into people's action-packed lives, without having a big price tag.
Your Comments