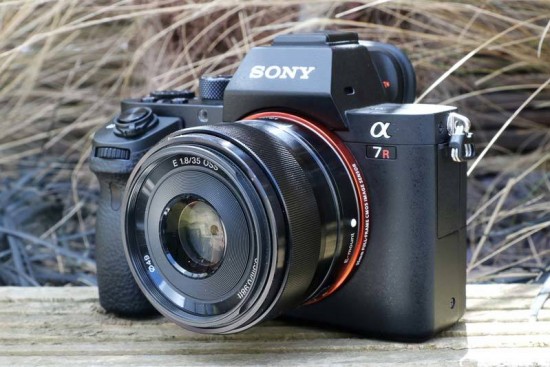 At a recent event held at Pinewood studios near London, we were able to sample Sony's upcoming Alpha 7R II. The original α7R was a compelling camera that proved you didn't need to cart around something size of a Nikon D810 to get super high resolution images. Its successor improves on the original in several key areas. It packs an even higher resolution sensor, but is also now capable of 4K video recording. Autofocus performance has been boosted as well, with Sony claiming the new camera to be up to 40% faster to focus than the original α7R. The α7R II also incorporates an advance in-body image stabilisation system, plus an improved OLED viewfinder.
Sensor
The α7R II retains the same 35mm sensor size as the original α7R, but Sony has upped the pixel count from 36.4 megapixels to 42.4MP. That may fall short of Canon's 5DS R, but it's still a mightily impressive specification given the α7R II's relatively compact size. Not only has resolution been upped, but the sensor itself now utilises a back-illuminated construction that brings the light-gathering photosites closer to the sensor surface for increased light sensitivity. Although this design has been around for several years, the α7R II is the first 35mm full frame camera to employ the technology. The result is potentially improved image quality, and a maximum ISO sensitivity of 102,400 – up from ISO 25,600 in the original α7R. The sensor has also been reworked to give a claimed 3.5x faster image readout speed to help with 4K video processing and continuous shooting performance. The latter is now 5fps – up from 4fps in the α7R – but given the extra pixels being pushed, it's a respectable speed boost. The α7R II's sensor still does without an optical low pass filter to maximise image sharpness.
4K video
4K video is becoming the new resolution standard rather than a luxury, and the α7R II is capable of internal 4K video recording. It's worth emphasising the 'internal' aspect of this, as whilst the α7S is already capable of 4K video capture, you can only record at this resolution by streaming the video feed via HDMI to an external recorder. The new α7R II offers full in-camera 4K recording and does so without resorting to pixel-binning or line skipping; instead utilising individual pixels to maximise detail and reduce jagged edges and moiré pattern interference. Also helping to maximise video quality is the α7R II's use of the new XAVC S video compression format for higher bitrate encoding. Fast frame rate movies are also possible, with 120fps recording available at HD 720p resolution.
Autofocus
Autofocussing performance wasn't the finest aspect of the original α7R thanks to its use of contrast-detection AF as opposed to the hybrid system employed by the standard Alpha 7. Sony has addressed this for the α7R II and the camera now features an advanced hybrid AF system incorporating 399 phase-detection AF points that cover a substantial 45% of the frame. This means up to 40% faster autofocus speed compared to the α7R, as well as improved motion tracking AF performance across a wider frame area. And as an added bonus, phase-detection AF will also work when using SSM and SAM autofocussing A-mount lenses mounted via Sony's LA-EA3 lens mount adaptor.
Image stabilisation
Given that the α7 II incorporates in-body SteadyShot image stabilisation, it's probably not that surprising that Sony has carried over the same technology to the α7R II. It's a feature once restricted to Sony's SLT cameras and gives the α7R II 5-axis image stabilisation. There's typical pitch and yaw correction to compensation for unwanted tipping or panning when shooting handheld, but the sensor is also able to counteract lateral and longitudinal motion, as well as roll. Sony claims the system is capable of a 4.5-stop shutter speed reduction, and thanks it being in-camera, it'll work with a huge range of E-mount, A-mount and third party lenses.
Build quality and ease of use
Like the α7R, the α7R II features a professional-grade magnesium alloy body with weather sealing to protect against dust and moisture ingress. Sony has tweaked some of the styling to aid ergonomics, so there's now an enhanced hand grip and shutter release button, plus the mode dial gets a new locking mechanism. The OLED viewfinder has also received an upgrade. Its resolution is unchanged at 2,359k dots, but the viewfinder optics now receive a Zeiss T* coating to improve clarity, and magnification has been upped to an impressive 0.78x, giving a 38.5-degree field of view. The LCD monitor's resolution has been boosted though, from 921,600 dots to a 1,228,800-dot display, which is still tiltable up and down for easier high and low angle shooting.
Hands-on experience
The pre-production press samples of the α7R II we encountered may not be representative of the final product's performance, hence we were not able to shoot any test images. But first impressions of the camera are that it feels like a subtle, yet noticeable improvement over its predecessor. The redesigned hand grip is marginally more comfortable to hold, whilst the uprated autofocussing system is extremely rapid and practically instant in most lighting conditions. We're also impressed with the α7R II's new OLED viewfinder, which is large, bright and a pleasure to use. If there's one drawback to the new model, it's weight. The addition of in-camera image stabilisation helps to add 160g to the body-only weight, which is now 625g with the included 340-shot capacity lithium-ion battery pack. Nevertheless, that's around 30% lighter than a Nikon D810, and the α7R II still feels relatively compact and lightweight given its specification. Of course, any weight increase will also be harder to perceive depending on which lens the α7R II is mounted to.
Your Comments