Sony DSC-W5 and Sony DSC-W7 Introduced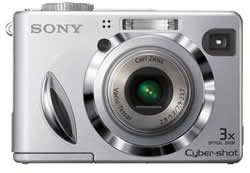 Sony DSC-W5 and Sony DSC-W7 are both announced today. The Sony DSC-W5 and Sony DSC-W7 are 5 and 7 megapixel models respectively that have 2.5 inch LCD screens. The DSC-W7 and DSC-W5 both offer battery life of 380 shots between power charges and 32 megabytes of internal memory.
Sony Press Release
ORLANDO (PMA 2005, Booth 3032), Feb. 19, 2005 — Sony is redefining what a digital camera should be with the introduction of two W series models: the 5.1-megapixel DSC-W5 and the 7.2-megapixel DSC-W7.
The new models combine the some of the most desirable characteristics of a fully-featured camera in a compact metal-alloy body wrapped around an impressive, 2.5-inch LCD.
Powered by Sony's Real Imaging Processor™ circuitry, the cameras deliver extraordinary performance, including lightning-fast camera response times and extended battery life with approximately 380 shots between power charges.
Both models come with a full 32 megabytes of internal memory (30 megabytes available). As a result, these cameras are bringing new meaning to the term "worry-free" digital photography. Even if you forget to bring a memory card, or your Memory Stick® media card runs out of capacity, you can still take great pictures thanks to the cameras' built-in memory.
"Our aim is to make digital photography as exhilarating as possible, yet simple and straight-forward," said Hiro Takahashi, vice president for Sony Electronics' digital imaging products. "The new W series embodies this philosophy, offering the most sought-after features in a sophisticated yet efficient package."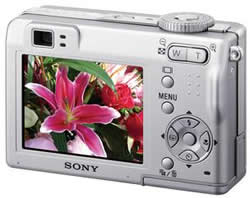 More Bang for the Buck
Available in March for about $450, the DSC-W7 is one of the most competitive 7-megapixel cameras on the market. The camera sports a Carl Zeiss® Vario Tessar® 3X optical zoom lens that fully extends in about a second, as well as large 2.5-inch color LCD screen for optimal picture taking and viewing.
The 5-megapixel DSC-W5 will be available in March for about $350. This camera also features a Carl Zeiss® 3X optical zoom lens and a generous 2.5-inch LCD screen.
Both the Cyber-shot® W5 and W7 cameras shoot full-resolution images in just over one-second intervals. Moreover, they offer MPEG-VX Standard/Fine mode, which enables recording of MPEG video with up to 640x480 pixel resolution at 30 frames per second.
With the optional Cyber-shot Marine Pack (MPK-WA), the Cyber-shot W models become underwater cameras with water resistance to a depth of up to 132 feet. For those who want greater flexibility, the W5 and W7 models can both be used with optional telephoto and wide-angle conversion lenses.
Prints at Your Fingertips
Printing just one or several images is a snap with the new W series because these models are PictBridge™ compatible. Connect the cameras to a PictBridge enabled printer, such as Sony's new PictureStation™ DPP-FP50, and great prints appear with just a push of the button.
The DSC W-Series has a host of other appealing features, including: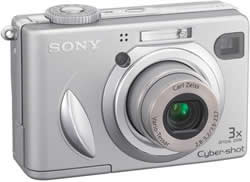 Five-area Multi-Point Auto Focus: The camera evaluates five separate areas of the frame and intelligently focuses on the subject, displaying the selected focus point.
Manual Exposure Controls: Flexible exposure control in which shutter speeds from 30-1 1/1000 seconds and apertures of f2.8 - 5.2 can be selected.
Preset Scene Modes: With seven scene modes, parameters can be matched to the shooting conditions, including: Twilight, Twilight Portrait, Landscape, Snow, Beach and Candle.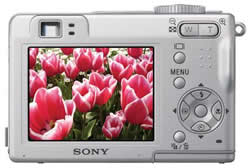 Cyber-shot W Series Accessories
New optional accessories will maximize your capturing experience and include:
Marine Pack Model MPK-WA: Water-proof housing made of high-quality polycarbonate plastic and glass enables basic camera functions at up to a 132 foot depth. The marine pack includes a hand strap and is available next month for about $200.
Optional Lenses and Adapter: A high-grade telephoto lens (VCL-DH2630), wide angle lens (VCL-DH0730) and lens adapter (VAD-WA) will also be available next month for about $130, $100 and $30 respectively.
# # #
A portion of the available storage capacity is used for data management functions. Actual available memory is 30MB.