Sony NEX-5R Hands-On Preview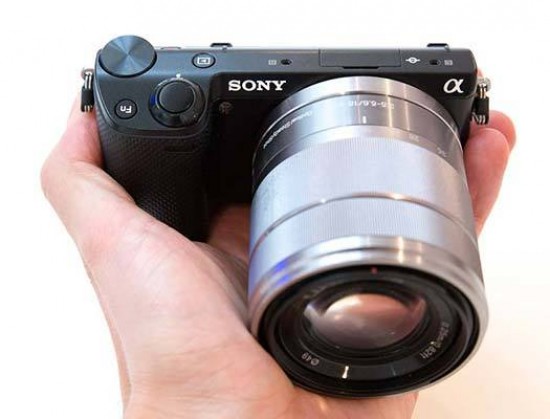 Want to see exactly what the new Sony NEX-5R digital camera looks like in the flesh?
The NEX-5R launches in October and replaces the NEX-5N, which is now discontinued. The NEX-5 series accounts for around 70% of NEX sales in the UK, so a lot is expected of the new 5R with Christmas just around the corner.
The NEX-5R has a brand new 16.1 megapixel APS-C CMOS sensor with a top ISO speed of 25,600. It offers both contrast and phase-detection auto-focusing, with the camera seamlessly switching between the two, thanks to 99 AF assist points located on the sensor itself. Another benefit of the new system is 10fps burst shooting complete with AF tracking - previous NEX cameras have offered a similar rate but with the focus and locked at the first frame of the sequence.
There's also a 180 degree tilting LCD screen, as previously seen on the NEX-F3, and it's also a touch-screen model complete with a new touch shutter function. There's an additional Function button on top that opens a customisable Favourites menu with six options, plus the very welcome inclusion of a rear control wheel that makes it much easier to set the exposure in the manual shooting mode.
PlayMemories Camera Apps is set to be a big initiative for Sony. This is essentially a proprietary online library of camera apps, most of which will be free, some of which will be chargeable. Up to 100 apps can be stored on the new NEX-5R's internal memory. Downloadable apps include Bracket Pro, Multi Frame NR, Photo Retouch, Smart Remote Control, Time Lapse and Direct Upload to Facebook. There will be a PlayMemories Mobile App for both iOS and Android smartphones which will allow you to wirelessly transfer 2 megapixel versions of your NEX-5R photos to your smartphone. Sony have confirmed to us that PlayMemories Camera Apps will not be compatible with previous NEX cameras via a firmware upgrade - only the 5R currently supports it.
The Sony NEX-5R will be available in silver, white or black for a street price around £670 with an 18-55mm kit lens.
Check out our hands-on gallery of photos of the Sony NEX-5R digital camera, including a side-by-side comparison with the outgoing NEX-5N.
24 photos of the Sony NEX-5R digital camera.
Image Gallery
Click on a thumbnail to see the full version.
Your Comments