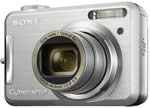 The Sony S800 is an 8 megapixel digital camera with a 6x zoom lens, 2.5 inch LCD screen and silver all-metal body. The S800 features a 1/1.8inch Super HAD CCD sensor, ISO 1250 mode and macro shooting up to 2cms. The supplied NiMH AA battery pack allows 390 shots between charges, and there's 54MB of internal memory. The Sony S800 will be available throughout Europe from end of May 2007, pricing to be announced.
Sony Europe Press Release
6x ZOOM GETS YOU EVEN CLOSER TO STUNNING IMAGES WITH THE GREAT VALUE CYBER-SHOT S800
  * Powerful 6x optical zoom lens
  * 8.1 effective megapixels
  * 1/1.8-inch Super HAD CCD
  * High sensitivity ISO 1250 (REI)*
  * User-friendly Function Guide and Direct Play button
  * Stylish design with full metal body
  * Large 2.5-inch, 230K dots LCD screen
  * Up to 390 shot shooting STAMINA**
26th April 2007 - Teaming great looks and superb imaging performance with a powerful 6x zoom lens, the Cyber-shot S800 opens up the exciting world of digital photography to everyone.
Weighing just 185g (without battery and media), the beautifully compact S800 stands out from the crowd thanks to its sleek lines and luxurious all-metal body. It's also incredibly easy to use, even if you've never picked up a digital camera before.
Pulling you closer to the action, the 6x optical zoom lens offers the highest magnification ever from a compact Cyber-shot model – boosted further still to 12x with digital zoom. In macro mode it's possible to focus right down to 2cm for fantastic close-up views of any subject.
The powerful 6x zoom lens is naturally complemented by excellent imaging capabilities. Experienced photographers will value the 8.1 effective megapixel resolution 1/1.8?inch Super HAD CCD sensor for crisp, clear images that still look great even when enlarged to A4 sized prints.
Novices and photo experts alike will also appreciate the camera's high sensitivity that makes it easier to grab blur-free images with fast-moving subjects or when shooting in low light without flash. The S800 features a special high sensitivity mode of ISO 1250 (REI)*, selectable via the user-friendly mode dial for great results every time.
It's easy to view your shots on the high-quality 2.5-inch TFT LCD screen. With an exceptionally high resolution of 230K dots, every detail is reproduced with crystal clarity, superb contrast and accurate colour reproduction.

Despite its powerful imaging capabilities, you don't have to be a photo enthusiast to get the best out of the S800. The easy-to-follow Function Guide offers simple advice on picking the optimal shooting mode for any subject. There's also on-screen guidance that shows a suggested size for printing paper and the number of images remaining, dependent on remaining memory space.
The S800 is equipped with a one-touch Direct Playback button that switches straight to Playback mode while shooting for quick, confident checking of your images.
The supplied NiMH AA battery pack allows a generous 390 shots between charges**, so there's no need to worry about running out of power during a day's busy shooting.
54MB of internal memory provides plenty of capacity for storing your shots and is easily expandable by adding convenient, reliable Memory Stick Duo / Memory Stick PRO Duo removable media for even more shooting space.
To complement the S800 there are a wide range of accessories available such as a range of stylish and compact dye-sublimation photo printers (including the DPP-FP90, 70 and 60), practical carrying cases and additional batteries to ensure you never miss a shot.
The Cyber-shot S800 will be available throughout Europe from end of May 2007 and will be available to pre order at www.sonystyle-europe.com
*Recommended Exposure Index
** CIPA Standard with LCD screen on

Sony DSC-S800 key features
  * 8,1 effective megapixels
  * 6x optical zoom, 12x digital zoom, up to 30 smart zoom
  * ISO 1250 high sensitivity (REI) for shooting in low-light situations
  * Large 2.5-inch (6.2cm) LCD screen
  * Silver full metal body, compact design
  * 56MB internal memory
  * High quality Sony lens
  * 2cm macro for close-up shooting
  * Easy operation with an on-screen function guide
  * 16:9 mode for playback on a widescreen TV
  * Motion-JPEG (30 fps movie mode with audio)
  * PictBridge for direct connection to printer without need for PC
  * STAMINA battery life, up to 390 shots (CIPA standard with LCD screen on)
  * On-screen menu in choice of 15 languages: Czech, Danish, Dutch, English, Finnish, French, German, Hungarian, Italian, Norwegian, Polish, Portuguese, Russian, Spanish, Swedish
  * Supplied with: 2x NiMH rechargeable batteries, charger, AV & USB cables, wrist strap and software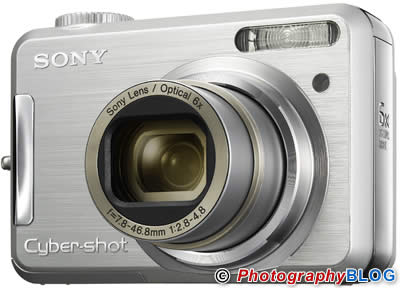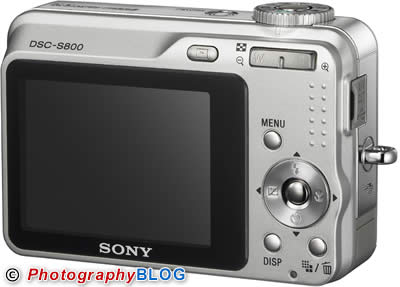 Your Comments