Sony Vaio AW-Series Laptop for Photographers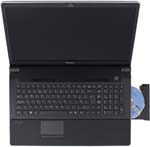 The new Sony Vaio AW-Series is an 18.4-inch laptop aimed at photographers. Full coverage of the Adobe RGB colour space offers total accuracy for editing, thanks to the 3LED backlighting system also found on Sony's Bravia TVs. The AW-Series comes with Adobe Photoshop Lightroom as well as Adobe Photoshop Elements pre-installed. The VAIO AW-Series has an Intel Core 2 Duo T9600 processor, NVIDIA 512MB GeForce 9600M GT graphics card, 128GB Solid State Disk and a 500GB SATA drive. Price and availability to be announced.
Sony Europe Press Release
VAIO AW-Series
Drawing on its strengths in the field of display design and refining them to a new level, VAIO has created a new class of portable. It has screen technologies never seen on a notebook, from the massive 18.4-inch diagonal and Full HD resolution to its 3LED backlighting system. Serious photographers and owners of HD camcorders will instantly appreciate the absolute colour fidelity on offer – full coverage of the Adobe® RGB colour space delivers the total accuracy essential to perfect editing. Quite simply, this is the best – and only – notebook screen of its kind.
3LED backlighting is a technical breakthrough found on high-end BRAVIA™ LCD TVs. It uses the pure red, green and blue light emitted by LEDs to generate a super-wide colour gamut capable of correctly reproducing the full Adobe RGB colour space. Whether you are editing photographic images or HD video, or simply enjoying an HD movie, this means the best possible picture quality. Put this together with Full HD (1920 x 1080) resolution and you have the screen by which others will be judged.
The AW-Series comes with Adobe Photoshop® Lightroom® as well as Adobe Photoshop Elements, providing users with some of the very best photo-editing software tools available. Sony original software including Image Data Converter, Picture Motion Browser and ? setting plug-in for Adobe Photoshop Lightroom further enhance the appeal to serious photographers. As well as the convenience provided by the settings plug-in, owners of Sony's ? DSLR will experience the quiet pleasure of seeing an echo of the camera's design aesthetic in the distinctive and beautiful finishes available for the AW-Series.
The huge Full HD display offers true 16:9 widescreen, so when you play a movie on the integrated Blu-ray Disc™ drive, you are treated to superbly cinematic visuals. Dolby® Home Theatre audio signal processing and 2.1 channel speakers complete the mini-cinema effect, with enhanced bass from the integrated sub-woofer as well as immersive surround sound. Should you prefer, an HDMI™ output lets you the whole High Definition audiovisual experience to an HD TV or Home Theatre.
From a technical standpoint, the VAIO AW-Series is as impressive behind the scenes as from the front. Everything you need for outstanding multimedia performance is there, from the Intel® Core™ 2 Duo T9600 processor, power 3D graphics courtesy of NVIDIA's® 512MB GeForce® 9600M GT and a very special combination of disk technologies. In a world first, 128GB of Solid State Disk (SSD) Flash memory works together in a RAID array with the 500GB SATA drive to boost performance when working with large files, which are stored on the SSD for extremely fast access1.
Your Comments