Special Gold Edition Cameras from Lomography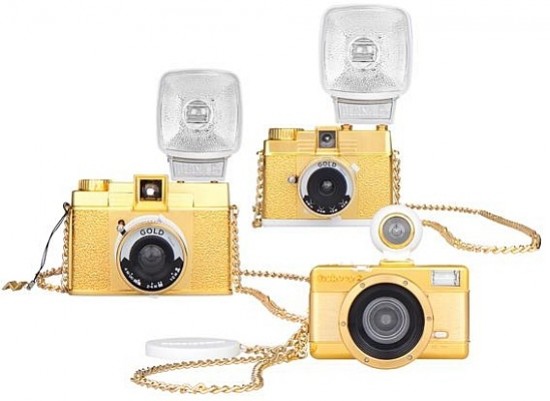 The Lomographic Society has announced that three of their most popular Lomography plastic cameras are now available in a Special Gold Edition. The new versions of the Fisheye 2, the Diana F+ and the Diana Mini are available for £89, £99 and £109, respectively.
Lomography Press Release
The Lomographic Society Proudly Presents:
THE GOLD SPECIAL EDITION
Shiny & Golden: Diana F+, Diana Mini and Fisheye 2 dangling from gold chains, perfect for partying!
Size Does Not Matter: the Diana sisters enthuse with matching goldenness
A Twinkling Star Is Born: Fisheye 2 rocks with stunning perspectives
SHINY & GOLDEN
Not everything that glitters is gold. This time the saying is not true. Our three beloved camera models Diana F+, Diana Mini and Fisheye 2 have gone through a shiny make-over by Mister Goldfinger himself. Dangling from a bling bling gold chain, they are ready to shine. Still enthusing with unique virtues, they now cause a stir with their glamorous new look. Dangling on a golden chain in your hand, the cameras of the Gold Edition are the must-have accessory for hip parties and special occasions.
SIZE DOES NOT MATTER
But as life shows, outward appearance is not the only important thing in life. Moreover the Gold Edition convinces with its outstanding intrinsic values of producing extraordinary photos. Wearing the same golden and white dress, the tiny Diana Mini doesn't need to be afraid of a comparison with her bigger sister: While the Diana F+ convinces with its dreamy, radiant and lo-fi images, the Youngster with the half-frame format knows how to fascinate in her own charming way.
A TWINKLING STAR IS BORN
The golden dress is finally the suitable look for this star. The Fisheye 2 is already well-known and loved for its unique perspectives through the built-in fisheye lens. Especially these two factors make the Gold Edition a real treasure: Colorful and remarkable in their perspectives, these cameras capture your precious memories in stunning and unique pictures while blinging away in goldenness.
TECHNICAL DETAILS
Diana Mini Gold
Film Type: 35 mm film
Lens: 24mm (30mm equivalent on 24x36, 35mm equivalent on 24x17)
Frame Format: 24mm x 24mm & 24mm x 17mm (select on body)
Multi-exposure: yes
Dimension: 70mm x 101mm x 60mm
Retail price: £99
Diana F+ Gold
Film format: 120
Size: 5" x 3.75" x 3" (12.5cm x 9.5cm x 7.6cm)
Variable shutter (daytime & "B" for unlimited long exposures)
12-shot (5.2x5.2cm), 16-shot (4.2x4.2cm), and endless Panorama (4.6x4.6cm) formats
Removable lens for super-wide-angle pinhole shots
Retail Price: £89
Fisheye 2 Gold
Format: 35mm film
Size: 4.25" (10.5cm) x 2.5" (6cm) x 2.5" (6cm)
Field of Vision: 170 degrees
Multiple Exposure switch for unlimited shots on 1 frame
Retail price: £79
Your Comments