Tamron 17-50mm F/2.8 Lens for Pentax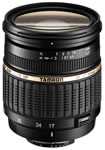 The Tamron SP AF17-50mm F/2.8 XR Di-II LD Aspherical [IF] is now available in the Pentax mount. Designed for DSLRs with APS-C size sensors, the Tamron 17-50mm is a lightweight and compact, fast standard zoom lens that offers a focal length of 26-78mm. The Tamron SP AF17-50mm F/2.8 XR Di-II LD Aspherical [IF] is already available in Nikon, Canon and Sony AF mounts. Price and availability of the Tamron 17-50mm lens for Pentax to be announced.
Tamron Press Release
TAMRON SP AF17-50MM F/2.8 XR DI II LD ASPHERICAL IF NOW AVAILABLE IN PENTAX MOUNT
Lightweight, Compact, Fast 2.8 Standard Zoom Lens Designed for Exclusive Use with Digital SLR Cameras (APS-C Size), Featuring 17mm Wide-Angle
PMA, January 31, 2008, Las Vegas, NV— Mr. Morio Ono, President of Tamron Co., Ltd., announced that Tamron has introduced its SP AF17-50mm F/2.8 XR Di-II LD Aspherical [IF] (Model A16) in Pentax mount designed exclusively for digital SLR cameras with smaller size image sensors.*
*Di (Digitally integrated)-II lenses are designed for exclusive use on digital cameras with smaller-size imagers. This lens is not designed for use with 35mm film cameras or digital SLR cameras with image sensors larger than 24mm x 16mm.
The SP AF17-50mm F/2.8 XR Di II LD Aspherical [IF] has been well received as a lightweight and compact, fast standard zoom lens.  In addition to Nikon, Canon and Sony AF mounts, it is now available in Pentax mount to meet consumer demand.
MAIN FEATURES
1. Lightweight, Compact Fast Standard Zoom Lens is Designed Exclusively for Digital SLR Cameras, with 17mm Wide Angle Coverage
Exclusive design for digital SLR cameras achieves a fast standard zoom lens that covers virtually the same angles as focal lengths of 26-78mm when converted to a 35mm format. The wide-angle focal length is established at 17mm (26mm equivalent) to obtain a wider angle of view than ordinary standard zoom lenses, while maintaining the remarkably lightweight and compact size of the earlier full frame zoom lens model. Since the lens is designed exclusively for APS-C sized digital cameras, the image circle diameter has been reduced. Moreover, careful adjustments to the design have achieved a lightweight, compact body with a filter diameter of ?67mm, overall length of 81.7mm (3.2")*, and weight of 434g (15.3oz.)*.
* Values given are for Nikon AF cameras.
2. Optical System Uses Special Glass, and Is Optimized for Digital SLR Characteristics to Enhance Optical Quality in a Compact Design
The use of XR (Extra Refractive Index) glass in an innovative way optimizes the overall distribution of optical power, and also reduces various aberrations to the absolute minimum while achieving remarkable compactness. In addition, suitable positioning of two hybrid aspherical elements serves to maintain imaging performance and to shorten and compress the entire optical system. Furthermore, an LD (Low Dispersion) glass element is used to accomplish effective compensation of on-axis and lateral chromatic aberrations, a critical factor for enhancing optical quality in digital photography, in order to achieve outstanding optical performance over the entire zoom range.
3. Minimum Focus Distance of 0.27m (10.6") over the Entire Zoom Range Affords a 1:4.5 Macro Capability
The new lens achieves a minimum focus distance of 0.27m (10.6") over the entire zoom range, one of the best in its class among fast standard zoom lenses with an F/2.8 maximum aperture throughout the entire zoom range used exclusively for digital SLR cameras with APS-C sized image sensors. The maximum magnification ratio of 1:4.5*1 at the 50mm setting is the top level in its class.
*1 Since APS-C sized image sensors are smaller than 35mm film, the 17-50mm can fill the frame with almost the same scope as a lens with a Max. Mag. Ratio of 1:3.0 on a 35mm SLR camera.
4. Optical Design Dedicated to Digital SLR Photography by Optimizing the Angle of Incidence of Light Rays Reaching the Image Sensor
This zoom lens uses an optical system designed to confine the changing angles of incidences of light rays reaching the imager within a certain scope over the entire image field by considering the effects of variance due to zooming.
5. Enhanced Peripheral Illumination
Peripheral light fall-off is minimized when compared with that of conventional lenses for film cameras, so images are uniformly bright from the center to the periphery.
6. Outstanding Resolution
Since the lens is designed exclusively for digital SLR photography, it provides high image quality resolution, contrast and flatness of image field.
7. Internal Surface Coating to Reduce Ghosting and Flare
By employing "Internal Surface Coatings" (i.e., multiple-layer coatings on cemented surfaces of plural elements) and new multiple-layer coating technology on ordinary elements, ghosting and flare due to the reflections that occur when light enters through the front element and reflections caused by the imagers themselves are reduced to the absolute minimum.
8. Large Aperture in Lightweight, Compact Design Thanks to New Mechanical Devices
Complicated mechanisms are built into the compact body, thanks to new mechanical devices, for excellent portability and ease of use. In addition, a complex triple cam structure where cams zoom and focus within a three-layer lens barrel has been further developed to improve AF focus precision for close-in shots and torque irregularity when zooming in and out. Additionally, the engineering of the lens has been completely overhauled to downsize its parts and to increase their precision and durability, in order to accommodate the complex structure incorporated into the new SP AF17-50mm F/2.8 XR Di-II LD Aspherical [IF].
9. Zoom Lock Mechanism Incorporated
The Zoom Lock prevents unwanted barrel extension when carrying the lens/camera combination.
10. Flower-Shaped Lens Hood
A glare-reducing flower-shaped lens hood is included as a standard accessory. The special hood provides optimum shading of superfluous light rays that enter from the rectangular frame outside the image field.
11. New External Design of the New Di II Series Conveys "High Performance, High Precision Image"
Improvements have been made to the external design by adding a gold-colored band between the focus and zoom rings to enhance the appearance and make the product stand out as a Di-II lens. Also, the black coating over the entire lens barrel creates a high-quality, sophisticated look. The rubber patterns of the zoom rings have also been improved to complement the digital camera design style and to provide better handling.
SPECIFICATIONS
Model Name A16
Focal Length 17-50mm
Maximum Aperture F/2.8
Angle of View 78°45'-31°11' (APS-C size equivalent)
Lens Construction 16 elements in 13 groups
Minimum Focus Distance 0.27m (10.6") (Over the entire zoom range)
Maximum Mag. Ratio     1:4.5 (at f=50mm MFD 0.27m)
Filter Diameter ?67mm
Overall Length 81.7mm (3.2")*
Maximum Diameter ?74.0mm (2.9")
Weight 434g (15.3oz.)* (General design value)
Diaphragm Blades 7 blades (Circular apertures)
Minimum Aperture F/32
Standard Accessory Flower-shaped Lens Hood
Compatible Mount Canon, Nikon, Sony and Pentax
* Values given are for Nikon AF cameras. The cosmetic design and specs are subject to change without notice.
Your Comments