Techart Canon EF - Nikon Z Autofocus Adapter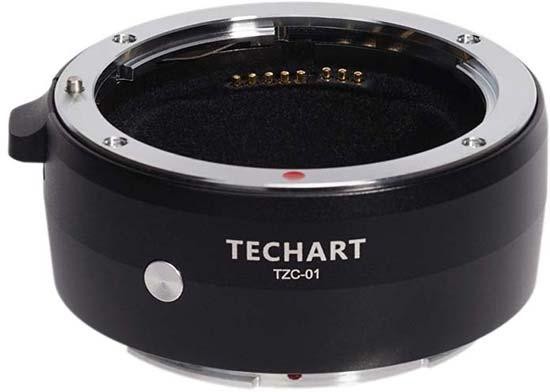 Techart have just unveiled the Canon EF - Nikon Z Autofocus Adapter, retaining auto-focus and lens stabilization of EF-mount lens on Nikon Z6/Z7 cameras.
The Techart Canon EF to Nikon Z Autofocus Adapter is available for order now priced at $249.

Techart Press Release
Guangzhou China, Jan 2, 2020 – Techart, who had launched the autofocus adapter for Sony E mount lenses on Nikon Z cameras half a year ago, unveils the new Canon EF to Nikon Z Autofocus Adapter (TZC-01). The new TZC-01 adapter allows EF-mount lenses from Canon/Sigma/Tamron/Tokina to retain Autofocus, aperture control, lens stabilization and other functionalities when used on Nikon Z6 and Z7 cameras.

The Techart adapter enables both Auto Focus & Auto Aperture functions of EF-mount lenses to be used on Nikon Z6 and Z7. AF-S, AF-C, AF-F & MF mode are supported in still & video shooting. The incredible Face & Eye Detection of Z-mount cameras can also be used. Other functions like lens vibration reduction and timelapse can also be used. Phase-detect Autofocus is adopted to guarantee both AF accuracy and speed to be very close to (if not better) native Z-mount lenses. Please note that functionality may vary when different E-mount lenses are used.
Unlike the system of EF-mount where lenses selection is vast, Nikon Z system is a relatively new system and it does not have a very complete lenses selection. With the new Techart adapter, photographers can now make use of the reliable EF-lenses when transiting to Nikon Z system. The new Techart adapter currently supports most of the Canon, Sigma, Tamron, Tokina & Zeiss lenses with EF mount including some legendary glasses like Canon 16-35mm L, 24-70mm L, 70-200mm L, Sigma Art series, Canon Tilt/Shift glasses, Tamron zoom lenses, etc.
The new Techart TZC-01 adapter comes with a complimentary lens dock for firmware upgrade. Simply connect the PC/MAC via a Micro USB cable (not included) and the firmware can be updated via the Techart App. Techart is currently working to support more lenses.
Pricing and Availability
The Techart Canon EF to Nikon Z Autofocus Adapter is currently available for order at our official website (http://www.techartpro.com). The recommended retail price before tax is USD 249/pc. Delivery will start immediately. 1-year warranty is included.
Image Gallery
Click on a thumbnail to see the full version.
Your Comments