The Macallan Teams Up with Annie Leibovitz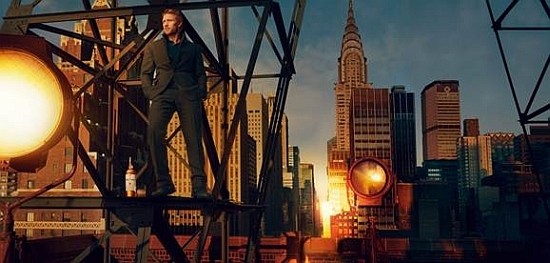 Single malt whisky brand The Macallan has commissioned Annie Leibovitz for the third edition of its Masters of Photography series. The Macallan Masters of Photography series features exclusive collaborations, conjoining the art of whisky making with the artist's interpretation of the world of The Macallan.  Previous editions were authored by iconic photographers Rankin and Albert Watson. "This year, Annie Leibovitz, chosen for her exceptional skill and inimitable style, has interpreted four single cask variants released for the first time, resulting in four powerful images," the company says. "Shot against dramatic backdrops in and around New York City, Annie Leibovitz captures the brilliance of a moment where everything comes together, showcasing the stature of whisky as an icon of taste and masculinity."
Macallan Press Release
The Macallan teams up with Annie Leibovitz to create stunning 'Masters of Photography' photo shoot
Stunning series of images shot by Annie Leibovitz with renowned Scottish actor Kevin McKidd cast in the role of leading man, launches this year's The Macallan Masters of Photography series.
The Macallan, the luxury single malt whisky, has commissioned the world's most famous photographer, Annie Leibovitz for the third edition of its award-winning Masters of Photography series.  The Masters of Photography: Annie Leibovitz Edition sees Leibovitz bring to life the essence of the brand through her unique photographer's eye, with renowned Scottish actor Kevin McKidd cast in the role of leading man.
The Macallan Masters of Photography series features exclusive collaborations, conjoining the art of whisky making with the artist's interpretation of the world of The Macallan.  Previous editions were authored by iconic photographers Rankin and Albert Watson.

This year, Annie Leibovitz, chosen for her exceptional skill and inimitable style, has interpreted four single cask variants released for the first time, resulting in four powerful images.  Shot against dramatic backdrops in and around New York City, Annie Leibovitz captures the brilliance of a moment where everything comes together, showcasing the stature of whisky as an icon of taste and masculinity and confirming The Macallan as 'The Last Word' in luxury.
"I am the first colour photographer chosen by The Macallan for its Master of Photography series, prior to this I hadn't realised how complicated and deep the distilling process is. That warmth and richness is what I tried to bring to the photographs. Kevin McKidd drove the imagery. Where Kevin comes from and his rugged good looks are what the photographs are all about. It wasn't casting, it's authentic." Comments Annie Leibovitz.
Charismatic actor Kevin McKidd, acclaimed star of US TV drama Grey's Anatomy and cult film Trainspotting hails from Elgin, just a few miles away from The Macallan Distillery on Speyside where he even worked as a young man, making him an authentic choice for the role.  He says "This project is very special to me. Having worked at The Macallan distillery in my youth I remain a Macallan drinker to this day so to be asked by The Macallan to be part of this campaign was a huge honour. Annie Leibovitz is a living legend so to be photographed by her is a once in a lifetime experience".
Ken Grier, Director of Malts, The Edrington Group, said: "Working with one of the world's most influential photographers has exceeded all expectations.  The Masters of Photography series is hugely important to The Macallan brand and Annie Leibovitz has captured The Macallan moment in her own unique way.  The fact that our leading actor, Kevin McKidd, is not only a fervent Macallan drinker but actually worked at the distillery is a wonderful and authentic story.  His evolution from an Elgin boy to internationally famous actor mirrors the success The Macallan has enjoyed from its Speyside roots to global fame, making him perfect for the brand."
www.themastersofphotography.com
Your Comments