The Panasonic Lumix DMC-GH2: The Unofficial Quintessential Guide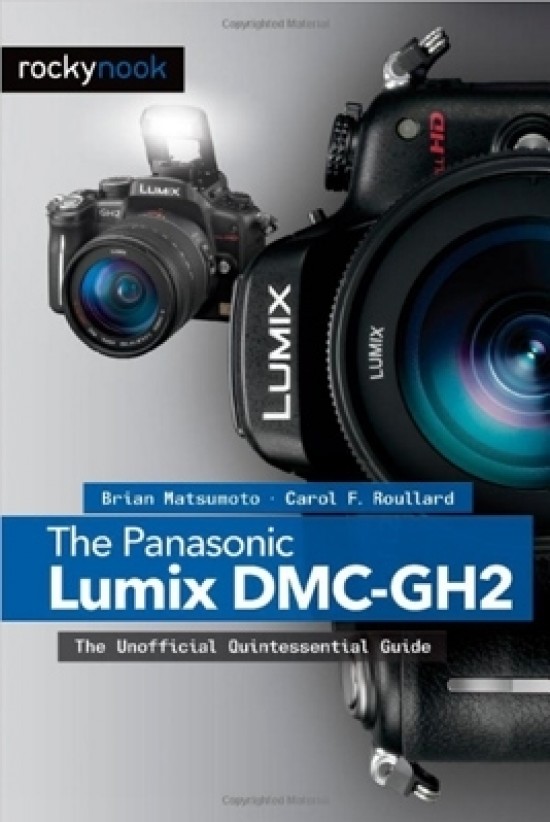 The Panasonic Lumix DMC-GH2: The Unofficial Quintessential Guide by Carol Roullard and Brian Matsumoto, released last month in the US, is now available in the United Kingdom. This guide explores the GH2 camera in detail, including basic camera functions, the menu system, the various settings, the extended video capabilities and more. The 272-page volume is available for £22.99/€24.00.
Press Release
The Panasonic Lumix DMC-GH2 — New from Rocky Nook
The Unofficial Quintessential Guide
Farnham, UK — The Panasonic Lumix DMC-GH2: The Unofficial Quintessential Guide (Rocky Nook) provides a wealth of information and insights for owners of this powerful HD camera. With its electronic viewfinder and interchangeable lenses, the GH2 is capable of not only recording professional-quality still images, but has the added ability to record HD video. The mirrorless design enhances the camera's versatility beyond that of most digital single lens reflex (DSLR) cameras. With the appropriate adapters, it can use virtually any manufacturer's manual focus, legacy lenses. It is smaller than a typical DSLR in both size and weight, and retains automatic focusing while recording videos—a feature that is missing in many DSLR cameras.
With the GH2, Panasonic has significantly expanded the video capabilities beyond those of previous models. Among the improvements is the ability to adjust the frame rate and shutter speed when filming video, giving users greater control over the movie-making process.
In this guide, authors Carol Roullard and Brian Matsumoto explore and explain the GH2 camera in detail, as they cover everything from the camera's basic features to numerous advanced photographic applications. The informative text is illustrated with color example images throughout.
Readers will learn how to:
·      Control the basic camera functions—focus and exposure
·      Navigate the camera's menu system
·      Achieve a range of artistic effects using various camera settings
·      Use the camera's automated controls, and override those controls to obtain better exposure
·      Use the GH2 in its video mode to capture HD videos
·      Post-process images and videos on a computer
·      Expand the camera's use by mounting it on a telescope or microscope
About the Authors
Dr. Brian Matsumoto is a retired research scientist who has worked for 30 years recording his experiments with a wide range of film and digital cameras. From 1992 to 2009, he served as Director of the Integrated Microscopy Facility, a unit administered by the Neuroscience Research Institute and the Department of Molecular, Cellular, and Developmental Biology at the University of California, Santa Barbara. This facility provides instruction and support for projects that require advanced imaging. In addition to the two books he has written for Rocky Nook, Dr. Matsumoto has published several articles and has had his photographs published in a number of periodicals. He is experienced in the technical aspects of photography and has taught courses on recording scientific experiments.
Carol F. Roullard has been an avid photographer since high school, where she first experimented with black and white artistic composition. She has continued photographing (mainly nature and architecture) throughout the years. Carol has used a variety of cameras covering a wide range of makes and models, from simple point-and-shoot cameras to complex professional cameras. She has been using the latest Panasonic G series models for the past several years. Carol is a Project Management Quality and Compliance engineer by trade and has spent a number of years developing procedural and quality control methodology for IT projects. In addition, Carol has developed and conducted training sessions covering best practices for procedural and quality control, breaking down complex subjects into easy-to-use approaches to learning.
The Panasonic Lumix DMC-GH2
Publisher: Rocky Nook
By Brian Matsumoto Ph.D, Carol F. Roullard
Print ISBN: 9781933952895
Pages: 272
Print Price: $29.95, £22.99, 24 €
Your Comments