The Union Collection Travel and Business Bags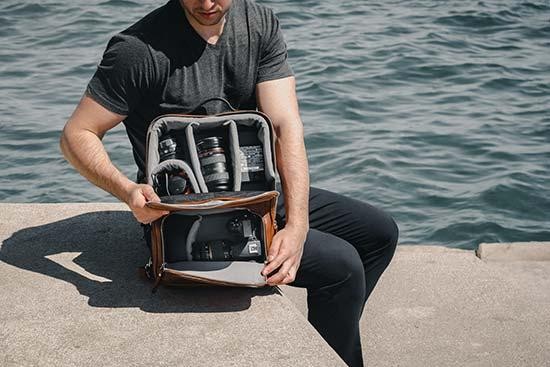 Union have just launched 3 bags that zip and unzip for the ultimate functionality while you travel, work or carry photography gear.
We are back with what we believe is the only collection of bags that you will need.

At the intersection between design and utility, the Union Collection is the evolution in leather carry that is created to match your active lifestyle.
What makes the Union Collection bags unique is the fact they are designed to be both stand-alone bags and unite together through an all round zip, offering a new dimension of functionality.
THE PACK
The Pack is everything we have envisioned from a truly versatile daily bag. It offers the comfort of being carried as a backpack, while being every bit as adaptable as you need it to be.
It is designed for the moments when you need a messenger, or for those meetings when you prefer to walk in with a briefcase style carry.
INTERIOR
We all carry different objects, and each day requires us to pack specific stuff. That is why we created a bag that can be customised to your exact needs. The velcro protective dividers, let you organise your interior, or can be completely removed for maximum capacity.
INTERIOR DIVIDERS
The Pack comes with 4 interior dividers that allow you to organise your essentials just the way you want to.
By using the horizontal divider, the interior is essentially separated into two halves that can each be accessed separately. That way when you need to reach for an object in your bag, you can simply open the top or bottom half and have direct access. You can forget about having to dig through your entire bag looking for it.
INSTANT ACCESS POCKET
One of the favourite features of our previous Kickstarter backers is back! The instant access pocket means that you can grab your camera right away, even when carrying it as a backpack.
CASUAL | PROFESSIONAL | STEALTH
Our aim is and has always been to create high quality leather bags that pack unmatched versatility at affordable prices. We are confident that we are creating a quality to price
ratio that is hard to match, but at the same time we are aware that our leather goods are not necessarily cheap.
That is why we want you to invest in a T. Forevers bag knowing that you will get the most out of it on a daily basis. The simple, timeless design of the Pack, allows you to carry it regardless of whether you are taking it on a walk around the city, or need a professional looking bag for an event.
PACK + SLIM
Unite them & pack more, go further. By connecting the two bags, you can increase the capacity & organise your stuff exactly as you want.
THE DUFFEL
Some of us simply carry a lot of stuff, even on a daily basis. That's why we studied duffel after duffel and realised that they are simply not designed to carry all our digital gear.
It's time for a better duffel. A truly all-round bag that is equally good for travelling as it is an office bag.
It carries your gym clothes, while keeping your laptop and gear protected and accessible at all times.
The separate side access to your laptop means that you now have all the benefits of a briefcase.
In addition, the Duffel can be attached in less than a minute to the Slim. Simply unzip the exterior cover and zip up the Slim.
THE SLIM
This is the go to city bag. It connects to both the Pack and the Duffel and it has all the essential features of a standalone bag that can carry your laptop, tablet, documents and any other chargers you may need throughout your day.
Imagine that you reached the hotel room. The Duffel is packed with your clothes. Do you take everything out to use it for your day in the city or business meeting?
That's when the Slim unzips from the Duffel, making it the ideal bag for your essentials
Our backers have spoken. Time after time, they told us that versatility is key. That is why we designed the Slim so that it can be carried as a backpack, briefcase and messenger.
CRAFTSMANSHIP
Our commitment to traditional craftsmanship is sometimes visible on the exterior of our goods, other times, it is hidden within the bag itself. That is why we want to share with our backers the process involved from sketch, to prototyping, to crafting.
Each handcrafted bag is unique in its own way to the one before it, each is imperfectly perfect. What you see and what you feel in your hands when you get your leather good is a representation of the growth and improvement of the craftsman's set of skills throughout its career.
In other words, your Temporary Forevers bag is the sum total of every product previously created by the craftsman.
T. Forevers leather goods are handcrafted in Europe where we are proud to share workshop with some of the best known International brands.
THE LEATHER
Italian full grain leather. Following 5 years of partnership with our Italian and Portuguese tanners, we have slowly developed our own line of leather which is selected among the raw hides and ten tanned to our exact specifications.
This type of full grain leather is not the kind that you find in your average high street store. It's packed with personality and marks of character and it will develop a slight patina over time that will reflect your style of carry.
Your Comments