Three DIWA Gold Awards for Canon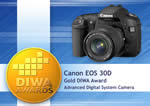 DIWA Press Release
Canon cameras come in all shapes, sizes and price levels, from easy-to-use amateur models to professional D-SLRs. Three of the most popular models have recently passed the merciless DIWA testing procedure with excellent results. The semi-professional EOS 30D, the high-zoom PowerShot S3 IS and the stylish and compact Digital IXUS 800 IS all ranked high in their respective classes, and proved well within the demands of a DIWA Gold Award.
Amsterdam, December 2006, 15:00 CET : DIWA (Digital Imaging Websites Association), a world-wide organisation of collaborating websites, today has the pleasure of announcing DIWA Gold Awards to three high quality Canon models; the EOS 30D, the PowerShot S3 IS and the Digital IXUS 800 IS. The Canon EOS 30D is based on the DIWA Gold winning predecessor, the EOS 20D. At first glance, their appearance may seem identical, apart from the larger 2.5-inch LCD screen. Inside the ergonomic and solid body, however, a number of advanced improvements have been made, such as the implementation of Canon's revolutionary "Picture Styles" image processing parameters. Spot metering and other useful features are also among the improvements.
The Canon PowerShot S3 IS is also a successor of a former DIWA Gold winner, the PowerShot S2 IS. Higher image resolution and improved light sensitivity, a larger LCD screen that now features a histogram, more scene programs and the addition of the 16:9 wide screen format ratio are among the many fine improvements. Many ingenious technologies of the highly popular S2 IS have been maintained, such as the 12x zoom lens with optical image stabiliser, Canon's renowned DIGIC II image processor and user-friendly menus and controls. A more professional-like black exterior symbolises the excellent improvements of the S3 IS.
Canon's legendary Digital IXUS compact camera series celebrates its 10th anniversary, during which the Digital IXUS 800 IS has topped their line-up. The combination of a small size and advanced technologies elevates the camera above most competitors, with its useful Image Stabilizer as one of many advantages. Thanks to its image sensor with a modest 6 Mp resolution, the Digital IXUS 800 IS provides excellent image quality for most practical print sizes.
The international DIWA group of experts has conducted extensive tests of the three winners, and found they all met our criteria for a DIWA Gold Award. These awards yet again confirm Canon's leadership in all three camera categories.
About DIWA
A fast growing independent, authoritative, industry organization
The Digital Imaging Websites Association (DIWA) is a fast growing group of independent Web-based specialist publications dedicated to digital imaging. DIWA harnesses the collective talent and expertise of its members, resulting in industry awards that command unparalleled confidence and value, both for consumers and the industry, alike. DIWA awards come in the form of bronze, silver and gold medals for various product categories.
Unique bullet-proof test scoring procedure
DIWA product test awards are exclusively decided through the analysis of multiple test scores from different DIWA testers, testing different samples of the same product. A very detailed and comprehensive standardized scoring procedure is employed, tailored carefully for each category of product. Multiple testing eliminates the chance of an isolated, unrepresentative product sample or test error, or even hidden bias, from affecting the trustworthiness of the overall result.
Awards throughout the year
DIWA is also unique in its policy in issuing awards for deserving products throughout the year, culminating in annual best of the year Platinum medal awards in all product categories.
DIWA Awards members:
- Canada: www.photoxels.com
- Czech Republic:  www.fotoaparat.cz
- Denmark:  www.digitalmagasinet.dk
- Germany:  www.digitalkamera.de
- Netherlands:  www.letsgodigital.org
- Norway:  www.digit.no
- Poland:  www.fotopolis.pl
- Slovenia:  www.e-fotografija.com
- Spain:  www.nuevafotografia.com
- Turkey:  www.diginorm.com.tr
- United Kingdom:  www.photographyblog.com
The DIWA multi-lingual Web site
At the heart of the DIWA organisation is its multi-lingual Web site, www.diwa-awards.com, where you can find links to the latest reviews published by DIWA member publications. The site also archives DIWA awards and is designed to aid consumers in their choice of imaging products.
For further information about DIWA please visit our Web site - http://www.diwa-awards.com - or email us at [email protected]