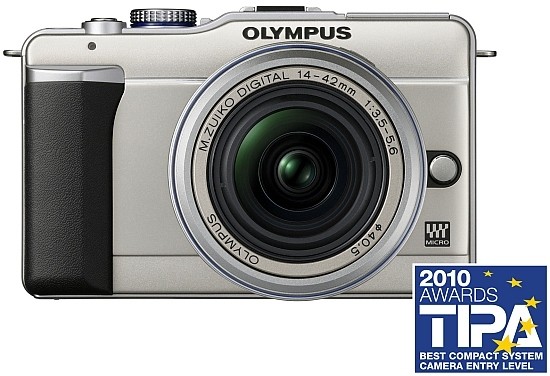 The Technical Image Press Association (TIPA) has announced the winners of the 20th round of the TIPA Awards. Among the award-winning products are the Nikon D3s, Pentax K-x, Canon EOS 550D and EOS 7D digital SLRs, the Leica M9 digital rangefinder camera, the Canon PowerShot G11, Casio Exilim EX-G1 and Sony Cyber-shot HX5V compacts and the Fujifilm FinePix HS10 superzoom camera. This year, there were two new categories, "Best Compact System Camera Advanced" and "Best Compact System Camera Entry Level". The winners of these new categories are the Panasonic Lumix DMC-G2 and the Olympus E-PL1 (pictured), respectively. To see the entire list of award-winning products, from photo kiosks to backup systems, head to the website below.
Website: TIPA Awards 2010
TIPA Press Release
The Technical Image Press Association voted on the best photo and imaging products of 2010 at the annual General Assembly in New York City, USA. This year marks the twentieth round of the prestigious TIPA Awards.
After in-depth discussions and analyses on the best eligible candidates, the representatives of the 28 member magazines from Europe, South Africa, Canada and the USA voted on the final winning products in all of the various Award categories. "When I look at the results of the TIPA Awards 2010, I think we did a very reputable job," said Thomas Gerwers, Chairman of the Board. "We expect that with the economy showing first signs of recovery in most major world markets, the TIPA Awards 2010 will continue to help consumers and professional photographers make the best purchases. Additionally, we are confident that the blue TIPA logo will help boost product sales for many companies worldwide."
The Award categories this year were updated to include two new categories. "Best Compact System Camera (CSC) Advanced" and "Best Compact System Camera (CSC) Entry Level" were established to represent the new generation of cameras with interchangeable lenses that have been launched by various manufacturers in the past year. The General Assembly agreed on implementing these two new categories to respectively separate those cameras with incorporated electronic viewfinders from those without.
An official list of the winning products of the twentieth TIPA Awards is posted on the association's website at www.tipa.com
Your Comments