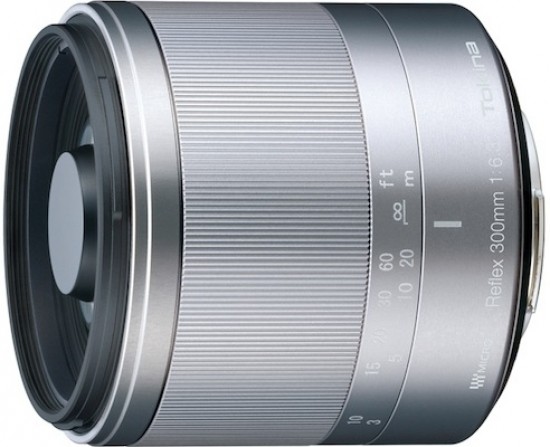 Kenro has announced the UK availability of the Tokina Reflex 300mm f/6.3 mirror lens. The 600mm equivalent Micro Four Thirds lens measures only 66x66mm (length x diameter) and weighs in at less than 300 grams, making it remarkably small and lightweight for a super-telephoto optic. Like the vast majority of mirror lenses, the Tokina Reflex 300mm f/6.3 is a manual-focus lens with a fixed aperture. The lens takes 55mm filters, focuses down to 0.8m and offers a maximum reproduction ratio of 1:2. In the UK, the Tokina 300mm f/6.3 Compact Super Telephoto lens is available for an RRP of £339.00 (excluding VAT).
Kenro Press Release
New compact super telephoto lens from Tokina
Kenro, the official UK distributor of Tokina lenses, has launched a new model, the Tokina 300mm F/6.3 Compact Super Telephoto Lens for Micro 4/3rds Mount.
The 300mm focal length of the lens gives an effective 600mm of zoom (in 35mm terms) when placed on a mirrorless camera body making it a super-telephoto lens, allowing photographers to bring distant subjects into much closer detail. Despite its powerful focal length, the lens is incredibly compact to match the size of the compact cameras it is intended to be used with.
This latest addition to the acclaimed Tokina range has all metal lens barrels and very high quality glass optics to yield the best optical performance. Beautifully built, the lens has a fixed f/6.3 aperture and is ideal for shooting wildlife and general outdoor/nature photography.
The telephoto mirror lens is designed specifically for mirrorless compact cameras using the micro 4/3rds mount. It comes with a wide grip area on the manual focusing ring and smooth movement to assist in focusing.
Paul Kench, managing director at Kenro made this comment: "Kenro are delighted to announce this new lens from Tokina. It's a beautifully designed piece of kit and its performance matches up to its distinctive looks. As the lens isn't auto-focus it gives the photographer greater creative freedom and its telephoto capabilities provide exceptionally sharp images from distance. With a weight of less than 300g it makes it incredibly light for a super-telephoto mirror lens; perfect for the photographers on the move - it really is a compact lens for compact-sized cameras."
Available to UK photographers in early September, the ultra-compact lens will have an RRP of £339.00 (excluding VAT).
For more information on Kenro's range of products go to www.kenro.co.uk or call Kenro's head office on 01793 615836.
Your Comments