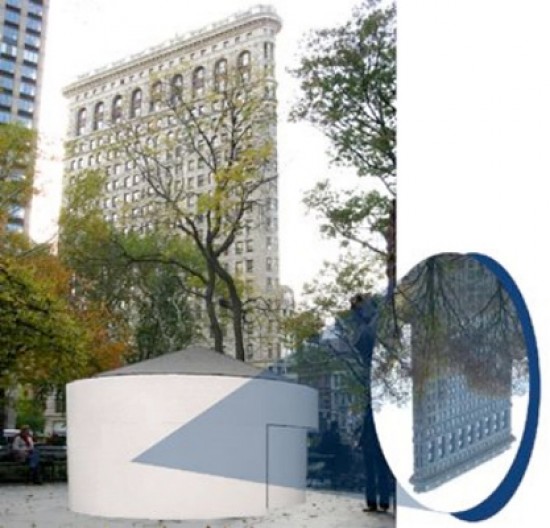 Madison Square Park Conservancy's Mad. Sq. Art programme has announced a new installation to inaugurate the spring 2013 season:  Topsy-Turvy: A Camera Obscura Installation by New York-based artists Sandra Gibson and Luis Recoder. "On view daily from March 1 – April 5, 2013, 10am-5pm, Topsy-Turvy will reimagine one of the world's oldest moving image devices into a life-sized 10-foot by 10-foot structure," the organisers say. "Park visitors will be able to enter the interactive, large-scale installation, which will utilize the physical properties of light to capture images of the surrounding Flatiron District in real time.  This centuries-old artistic medium will alter how visitors experience the park and engage with the various elements of New York City's urban landscape through a new and exciting lens."
Mad Sq. Art Press Release
MADISON SQUARE PARK CONSERVANCY'S MAD. SQ. ART PRESENTS SANDRA GIBSON AND LUIS RECODER:
TOPSY-TURVY: A CAMERA OBSCURA INSTALLATION
March 1 – April 5, 2013
Site-specific work celebrating the artists' public art debut to offer visitors new view of New York City landscape via one of the world's oldest moving image devices
Installation to be on view in Madison Square Park during March art fairs including The Armory Show and ADAA's The Art Show
New York—Madison Square Park Conservancy's Mad. Sq. Art announces a new installation to inaugurate the spring 2013 season:  Topsy-Turvy: A Camera Obscura Installation (2013) by New York-based artists Sandra Gibson and Luis Recoder. On view daily from March 1 – April 5, 2013, 10am-5pm, Topsy-Turvy will reimagine one of the world's oldest moving image devices into a life-sized 10-foot by 10-foot structure. Park visitors will be able to enter the interactive, large-scale installation, which will utilize the physical properties of light to capture images of the surrounding Flatiron District in real time.  This centuries-old artistic medium will alter how visitors experience the park and engage with the various elements of New York City's urban landscape through a new and exciting lens.For over a decade,  Sandra Gibson and Luis Recoder have collaborated on numerous performances and installations uniting the various rich traditions of experimental film. They are particularly interested in the medium's structuralist and materialist aspects, and the multimodal sensibility of expanded cinema that emerged in the 1960s in which the moving image was woven into the labile realms of performance, sound, and audience interaction. Their larger body of work explores this interstice between avant-garde film practice and the incorporation of moving images and time-based media into a distinctive art practice all their own. For their Mad. Sq. Art commission, Gibson and Recoder turn to their shared interest in cinema, drawing upon and manipulating basic elements of projected light and shadow in order to articulate space and time, as well as explore their most fundamental optical and formal qualities. In the words of Ed Halter, Artforum critic and founder of Brooklyn-based film and electronic art venue Light Industry, "in their collaborative film performances, Sandra Gibson and Luis Recoder employ simple mechanical means to hypnotically elaborate ends." President of the Madison Square Park Conservancy, Debbie Landau comments: "Since 2004, the Mad. Sq. Art program has presented groundbreaking art practices that extend beyond the confinements of a traditional gallery space. This March, Mad. Sq. Art is thrilled to feature emerging contemporary artists who have quickly become recognized as two of the most innovative practitioners of new media, and with this exhibition, in calling on a wellknown, but often unthought of practice for art in public spaces."
Artists Sandra Gibson and Luis Recoder state: "Topsy-Turvy is our homage to one of the earliest moving image technologies in the pre-history of cinema. The projected image inside our circular Camera Obscura delivers an inverted panoramic abstraction of Madison Square Park and the surrounding scenery around the Flatiron District."
Martin Friedman Curator, Adam D. Glick remarks: "Gibson and Recoder's Topsy-Turvy will bring this centuries-old practice to historic Madison Square Park, inverting the Flatiron Building and offering an unexpected perspective on one of Manhattan's most beloved public spaces and its surroundings. This exhibition will allow for a unique and individualized experience for each person who comes to Madison Square Park, creating the feeling that life is a film and in real time."
About the Artists:
Sandra Gibson (b. 1968) and Luis Recoder's (b. 1971) collaborative performances and installations have been exhibited internationally at numerous museums, galleries, and film festivals such as the 2004 Whitney Biennial,  Whitney Museum of American Art (NY); Performa 09, Light Industry (NY), Radical Light, Berkeley Art Museum/Pacific Film Archive (CA); Sundance Film Festival (UT), Film.Text.Performance.Film, Ballroom Marfa (TX), Film Projection Performance, Redcat (Los Angeles, CA), Conversations At The Edge, Gene Siskel Film Center (IL); Toronto International Film Festival,  Art Gallery of Ontario (Toronto); Expanded Cinema: Film als Spektakel, Ereignis und Performance, Hartware MedienKunstVerein (Dortmund), Expanded Cinema: Activating the Space of Reception, Tate Modern (London), BFI 50th London Film Festival, Institute of Contemporary Arts (London);
Kill Your Timid Notion,  Dundee Contemporary Arts (Dundee, Scotland);  36th International Film Festival Rotterdam (The Netherlands); Improvisacoes Colaboracoes,  Serralves Foundation (Porto);  Image Forum Festival at 21st Century Museum of Contemporary Art (Kanazawa); and The Kitchen (NY).Sandra Gibson and Luis Recoder live and work in New York City, and are represented by Bryce Wolkowitz Gallery, New York.
The exhibition of Topsy-Turvy: A Camera Obscura Installation in Madison Square Park will precede the May opening of New York-based artist Orly Genger's Red, Yellow and Blue (2013), which will transform the Park's lush lawns with more than 1.4 million feet of intricately hand-knotted, painted and sculpted rope from May 2 through September 8, 2013.
About Mad. Sq. Art and Madison Square Park Conservancy:
Mad. Sq. Art is the free, contemporary art program of the Madison Square Park Conservancy
Since 2004, Mad. Sq. Art has commissioned and presented more than twenty premier installations in Madison Square Park by acclaimed artists ranging in practice and media.Mad. Sq. Art has exhibited works by artists including Bill Beirne, Jim Campbell, Richard Deacon, Mark di Suvero, Bill Fontana, Ernie Gehr, Antony Gormley, Jene Highstein, Tadashi Kawamata, Mel Kendrick, Sol LeWitt, Olia Lialina & Dragan Espenschied, Rafael Lozano-Hemmer, Charles Long, Jacco Olivier, Roxy Paine, Jaume Plensa, Shannon Plumb, Ursula von Rydingsvard, Alison Saar, Jessica Stockholder, Leo Villareal, and William Wegman, among others.
Major support for Mad. Sq. Art is provided by the Charina Endownment Fund,  Liane Ginsberg, Agnes Gund, Toby Devan Lewis, Dorothy Lichtenstein, Tiffany & Co., Sorgente Group, and Anonymous. Substantial support is provided by Martha and Bruce Atwater, Melva Bucksbaum and Raymond Learsy, The Henry Luce Foundation, Melissa S. Meyer, Ronald A. Pizzuti, The Rudin Family, Lizzie and Jonathan Tisch, Tishman Speyer, the Joseph S. and Diane H. Steinberg Charitable Trust, and The Sol LeWitt Fund for Artist Work. Additional support is provided by Danny and Audrey Meyer, and NYC and Company.
Delta Air Lines is the Official Airline Sponsor of Mad. Sq. Art. Ace Hotel New York is the Official Hotel Partner of the Madison Square Park Conservancy. Mad. Sq. Art is supported in part with public funds from the New York City Department of Cultural Affairs, in partnership with the City Council. The Madison Square Park Conservancy is a public/private partnership with New York City Parks & Recreation.
Your Comments